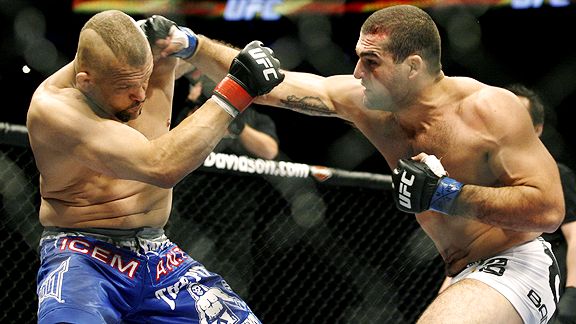 Ed Mulholland for ESPN.com
Knocking out Chuck Liddell isn't exactly grounds for a shot at a title. Sorry, Mauricio Rua.
Gluttons for punishment, Sherdog.com has released its always-controversial divisional rankings for the month of May. And to the surprise of no one, the site is officially endorsing karate.
(Usual footnote: I don't vote. Only organizational -- UFC, Strikeforce, etc. --
rankings make any real sense, because everyone can be measured only relative to the opportunities offered by their promotion. But that's just me.)
With his win over Rashad Evans on Saturday, Lyoto Machida has jumped from his No. 4 ranking in April to take over the No. 1 slot in the 205-pound division. All well and swell, but I'm still questioning Mauricio "Shogun" Rua taking the No. 5 slot -- and his meriting a probable title shot against Machida -- based on his win over a considerably slowed Chuck Liddell. Rua was the third man to knock out Liddell in five fights. This was not breaking new ground.
Interesting statistic: Of all the No. 1-ranked fighters on the list, Georges St. Pierre has defeated the highest number of ranked fighters below him (4). Perpetually bored B.J. Penn has the fewest (1).