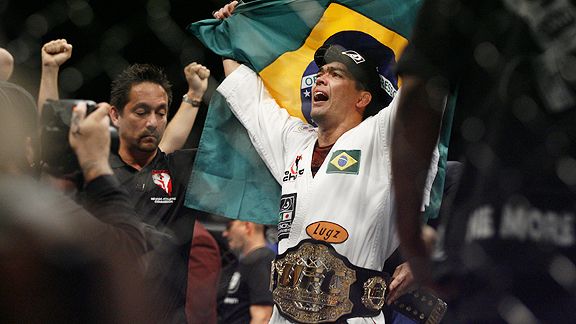 Ric Fogel for ESPN.com
Will Lyoto Machida still be wearing the light heavyweight title one year from now?
ESPN The Magazine's Ryan Hockensmith has composed a brave, brave editorial postulating that today's crop of UFC champions is the most intimidating and difficult-to-beat bunch of any in company history.
Hockensmith's preferred term is "unbeatable," though all five -- six if you count co-heavyweight champs Frank Mir and Brock Lesnar -- have blemished records. (Hockensmith qualifies this by only noting losses at natural weights in the past year, of which there were none.)
Is he correct? For most of these guys, it's simply too soon to tell. Among them, only Anderson Silva and Georges St. Pierre have defended their titles. Lyoto Machida, Lesnar, Mir and B.J. Penn are all newly-minted champions.
Once you have a belt, the pulse of the opposition livens up considerably. You get one tough guy after another. And they're all very eager to punch your face and take your money every chance they get. The tired rap about not being a real champ until you defend your belt might sound macho-corny, but it's more or less legit.
I wouldn't place a wager that any one of these guys is champion a year from now. The sport is that unforgiving.