Added to Fedor Emelianenko's considerable accomplishments during a 10-year MMA career: breaking the Internet.
Emelianenko, 33 and with a 32-1 record heading into Saturday's fight with Fabricio Werdum, has spent the past three years as one of the sport's best fighters and its most divisive personality. The mystique of his undefeated record made him the UFC's priority acquisition -- yet he and his management team rejected their advances, an arrogance that pleased fans irritated at the UFC's monopoly and annoyed others who wanted to see him butt heads with the 280-pound wrestlers.
For fans, his disinterest was an example of a fighter who refused to become a commodity; for Dana White, he was a fading champion who didn't deserve the respect shoveled on him. It is probably not unreasonable to say that significant ad space was sold on sites that got bumper-to-bumper traffic based on the debate. Strikeforce and Emelianenko got plenty of press. The only person it didn't benefit was White, who was chastised in media for not being able to close a deal.
White's consolation was that Emelianenko losing was only a matter of time. Everyone does, sometimes to an athlete most would overlook. (Georges St. Pierre and Anderson Silva, the UFC's two best fighters, lost to Ryo Chonan and Matt Serra, respectively -- Washington Generals-level underdogs.) But what made Fedor special was his inexplicable ability to defy the odds for so long. In a sport in which just one mistake can cost you a loss -- or a broken arm, or worse -- he had somehow navigated through a decade without suffering a freak occurrence, injury or mental lapse.
Until this weekend. Emelianenko rushed Werdum, who fell to his back more out of a loss of balance than punishment. Then Emelianenko made a horrible error: He willingly tumbled into Werdum's guard, a position representing his biggest danger of the fight. Without the sweat of a long fight to help him, a dry Emelianenko was forced to tap to a triangle choke. Message boards, busy for so long with arguments over his abilities, froze from the congestion.
In a sport in which you're only as good as your last fight, getting tied and tapped by a triangle in just over a minute leaves Emelianenko open to some revisionist history. But reputations are built on the sum total of efforts: To date, no heavyweight has dominated his division as thoroughly, consistently and for as long as Emelianenko has. He may not be the best heavyweight competing today, but he is easily the most accomplished.
There will probably be a rematch with Werdum, and a chance to re-establish the claim that Emelianenko has beaten every man he's ever faced. There may also be a softening on demands from M-1, his squad of contract negotiators, who can no longer twist promoters with the promise of delivering a superhuman. The loss may even provide the best result possible for his fans: a career-ending trip in the UFC. And with it, a chance to break the Internet one more time.
Next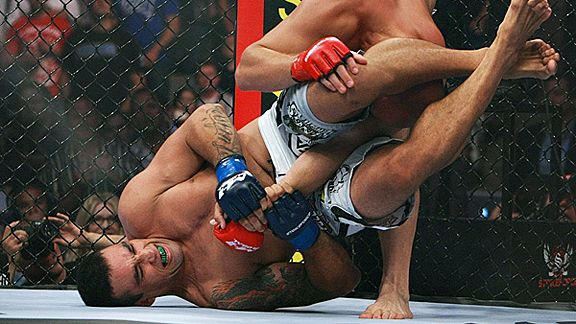 Dave Mandel/Sherdog.com
By forcing Fedor Emelianenko to tap, Fabricio Werdum turned the MMA world on its head.
Next for Emelianenko: Werdum, or Antonio Silva.
Next for Werdum: Emelianenko, or Alistair Overeem; a locker-room bonus from an ecstatic White.
Next for Cung Le: Recognition that, at 38, he has only a sliver of time left as a competitive athlete and should take the fights he wants sooner rather than later.
Next for Cristiane "Cyborg" Santos: More '80s-Tyson-level squash matches.
Next for Josh Thomson: Continuing to be underrated; Lyle Beerbohm.
New questions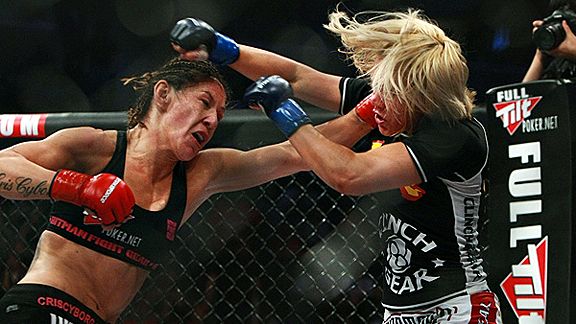 Dave Mandel/Sherdog.com
It was all downhill for Jan Finney, right, the moment the bell rang to begin Round 1.
Q: What happens to Werdum?
A: Werdum had a defibrillator effect on the industry by tapping Emelianenko on Saturday, becoming the first man ever to decisively stop the Russian. With that will come loads of sponsorship and endorsement opportunities -- but Werdum's window closes fast if Emelianenko gets his rematch in short order.
The debatable question is whether Werdum should be ranked No. 1 for beating the world's No. 1 heavyweight. Or should that be Junior dos Santos, who beat Werdum nearly two years ago? Or the winner of Saturday's Brock Lesnar-Shane Carwin bout? White, fans and media will get plenty of mileage in figuring it out.
Q: Can Emelianenko recapture his status?
A: While he was respected for being an excellent, well-rounded fighter, much of Emelianenko's recognition came from his undefeated record -- a feat nearly impossible in a sport as unpredictable and varied as MMA. Without that armor, the drawing power of a monosyllabic foreigner with central obesity takes a hit.
Emelianenko could restore much of his appeal with a decisive, bloody bit of revenge against Werdum. But the days of considering Emelianenko the Rocky Marciano of this sport are over.
Q: Does Strikeforce take the biggest hit?
A: Unlike the UFC, which can count on its brand to deliver a bottom-floor level of business, Strikeforce is largely dependent on the appeal of its matches. Owning Emelianenko was their biggest resource for media and legitimacy. Now that he's lost, depreciation is going to follow.
In the short term, they've lost potential pay-per-view revenue in a fight with Overeem: worse, Fedor's conqueror in Werdum isn't particularly charismatic or a crowd draw. Long-term, other lost attractions like Gina Carano (doing movies), Herschel Walker (probably good for one or two more fights), Frank Shamrock (retired) and Le (aging) aren't going to be there to deliver box office.
Emelianenko's comeback story will get a lot of play. If he can beat Werdum and resurrect interest in a fight with Overeem, it'll be a happier scene than the one Saturday.
Q: Was referee Kim Winslow in the wrong?
A: Winslow, the sport's only female referee at the televised level, drew sharp words for her officiating of the Cristiane Santos-Jan Finney fight. Santos scored four knockdowns in the bout, most of which she followed up with a barrage of punches from the top. Winslow was complacent until a knee to the body dropped Finney in the second.
Finney defended well, covering her face and deflecting most of the major blows on the ground. But a fighter getting repeatedly knocked down is a fairly obvious indication of scrambled brain function: Even a sport as cruel as boxing often prohibits a fighter from continuing after three knockdowns in a round. While Finney may have seemed game, what amounted to a 9-7 round (Santos was deducted a point for a foul) should have been cause for Winslow to step in. If not, her corner should have. Taking a beating is admirable, but it's one seriously misguided compliment.
Etc.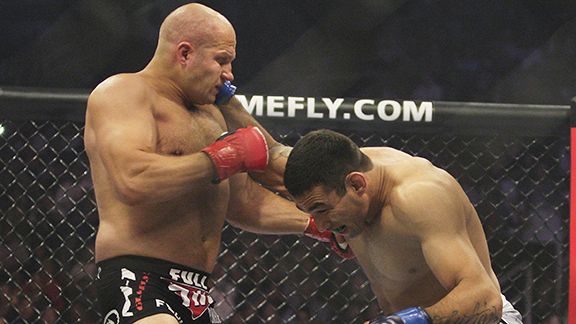 AP Photo/Jeff Chiu
Expect Fabricio Werdum and Fedor Emelianenko, left, to meet again; just hope it isn't on PPV.
• Josh Thomson, who squeaked out a win against a dangerous and underrated Pat Healy, suffered two broken ribs in the bout, according to MMAJunkie.com. Before a choke by Thomson in the third, it looked like Healy bettors were going to have a profitable night.
• Strikeforce chair Scott Coker told media after the bout that Erin Toughill would be on tap for Cristiane Santos later in the year. Toughill signed with the promotion earlier this year but has yet to make her debut. At this point, recruiting solid female judoka or wrestlers to test Santos' jiu-jitsu might be the only way to make her division competitive.
• Coker also said that a Werdum-Emelianenko rematch was a possibility for pay-per-view, which would be a big mistake. That's a CBS attraction, and if they want to deliver eyeballs for the network, that's where it should be scheduled.
• Frank Shamrock, one of the biggest talents in an era when no one was watching, announced his retirement Saturday. While his attitude put some people off, he was one of the first athletes to understand the psychology of fighting (and fight promoting). His omission from the UFC's Hall of Fame remains that promotion's most immature decision.