There are fighters who invite interest only depending on their opponent, and there are fighters who can attract a crowd for the simple reason of being.
No one paid to see Mike Tyson against Frank Bruno because Bruno could sell a fight or because his style could make a puzzle out of the match: they paid because Tyson, who pointed this out in one of his lapses into eloquence, could sell out a theater just by reading a phone book (actually, while doing something else, but it's not a picture you want; trust me).
There is plenty of curiosity attached to Fedor Emelianenko's second fight for Strikeforce on Saturday, but it's more for his presence as a real-time legend than anything he could accomplish in the fight. Fabricio Werdum doesn't have a style or reputation that would add anything significant to Emelianenko's résumé: He's already beaten an all-time great heavyweight jiu-jitsu artist in Antonio Rodrigo Nogueira on multiple occasions. And even if Werdum does pose any exceptional problems, no one seems able to anticipate them. It's hard to be nervous over facts you don't have.
Because of the card's place further down the dial -- on Showtime, not CBS -- and because the quiet Werdum doesn't have an engine of hype behind him, it's probably going to be one of Emelianenko's more muted appearances. At age 33 and with retirement on his mind, there's increasing immediacy to his schedule: We don't want his time or abilities wasted. Facing Werdum might be a fight, it but doesn't feel much like an event.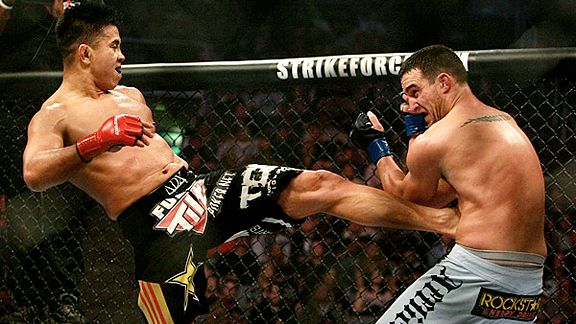 Dave Mandel/Sherdog.com
Cung Le and Scott Smith can't possibly combine to make a bad fight.
What: Strikeforce: Fedor versus Werdum, an announced four-fight card from the HP Pavilion in San Jose, Calif.
When: Saturday, June 26 at 10 p.m. ET on Showtime
Why you should care: Because the intrigue surrounding Emelianenko is now partially made up of how well his body and skills are holding up after a long career, because Cung Le and Scott Smith delivered one of 2009's best fights and a rematch is more than welcome, because Cristiane "Cyborg" Santos has a guaranteed wildlife attack scheduled against 8-7 Jan Finney, and because Mauro Ranallo never fails to find new and interesting ways to make the show all about him.
Fight of the night: Le-Smith, a perfect match of Le's dynamic stand-up and Smith's unbelievable constitution. He could be the car industry's first live crash test dummy and not be any worse off for it. This is intended to be a compliment.
Hype quote of the show: "Good for Fedor; I hope he does retire. … He's the greatest champion of all time. He's the greatest champion ever, of all time, in his own little world. Good for him." -- 4-1 Brock Lesnar, straining to tow the company line on the 31-1 Emelianenko, during a conference call.
Five questions: Strikeforce edition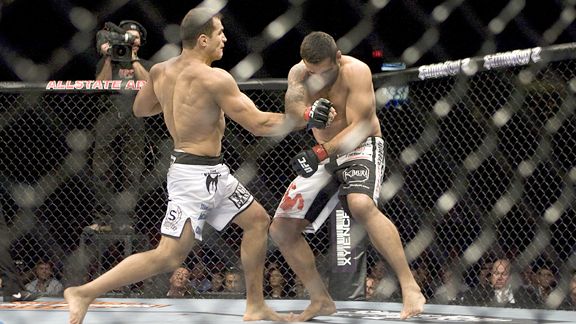 Ross Dettman for ESPN.com
Junior dos Santos, left, made it look easy against Fabricio Werdum. Can Fedor do the same?
Q: Can Emelianenko finish Werdum?
A: Once his MMA career got its wheels in the early part of the '00s, Emelianenko finished virtually every fighter he faced -- the only two exceptions being Mirko Filipovic and Antonio Rodrigo Nogueira. Nogueira was resolute over three fights, absorbing huge strikes from the bottom; Filipovic was a little too dangerous on the feet to get carried away with.
Against Werdum, it's possible the threat of submission could keep Emelianenko from staying busy enough on the mat to get a stoppage: Werdum has only been finished once in an eight-year career.
Q: Does Werdum have a chance?
A: Emelianenko's flashes of humanity have come on the feet, where he's been staggered, outboxed and cut. Werdum isn't known as a striker, though he looked sharp beating Antonio Silva to the punch in the fall. Defeating Emelianenko at this point might involve tagging the tissue-paper skin on his forehead and nose and hoping the ring doctor has a quick trigger finger.
Q: Does Finney devalue the women's title?
A: "Cuddles" Finney, who sports a near-.500 record, will be getting a title shot against Santos despite having no history with Strikeforce and no particular achievements to warrant the opportunity. (Finney is 4-0 in recent memory, but only one opponent sported a winning record; two were making their pro debuts.) While it's impractical to shelve Santos until a deserving contender can be found, it's an unfortunate reminder that the females of MMA have a serious equality issue when it comes to depth of talent.
Q: Will Le be worse for the wear?
A: Le, 37, suffered his first defeat in a long combat sports career against Smith in the fall, erasing the typical fighter trait of a teenager's sense of invincibility. The reality check might compel Le to ditch his flashier style in favor of a more conservative -- and defense-oriented -- game.
Q: Does Strikeforce benefit from the UFC's smear campaign?
A: Barely five minutes can go by during one of the UFC's media conferences where the Russian elephant of the room isn't mentioned: Emelianenko's absence from the promotion is often more prominent than athletes under their employment, a slight that usually results in White's discussing -- at length -- both Strikeforce and its star attraction. While virtually none of it is flattering, White's prominence as the sport's most heavily quoted personality gives his competition several mentions it wouldn't otherwise receive. "No comment" are two words White should practice.
Red Ink: Fedor versus Werdum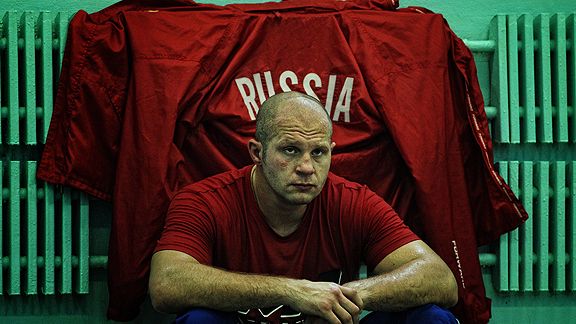 Showtime/Strikeforce
Fedor has looked stiff in recent bouts, but does Fabricio Werdum have the power to test his chin?
There are two things that would make Dana White's face crack from happiness in the next week: Lesnar retaining his title -- and immensely profitable pay-per-view appeal -- against Shane Carwin, and Werdum handing Emelianenko his first legitimate loss in mixed martial arts.
Werdum, 32, went 2-2 in White's promotion in 2007-08, with the only stoppage loss of his career coming against current hot prospect Junior dos Santos. If Werdum is able to take full advantage of the 15 minutes he's been allotted, there isn't a bullet train faster than White would be in getting to a microphone and crowing about it: Werdum, the UFC's cast-off, defeating the alleged pound-for-pound best fighter. He might even pass out.
Unfortunately for both White and Werdum, there isn't much in the fighter's skill set that can threaten Emelianenko. Brett Rogers and Andrei Arlovski put the Russian on his heels a bit, but Werdum doesn't have that power; Nogueira survived with his back on the ground, but Werdum doesn't have that kind of constitution. When your best opportunity for winning is in a submission against a fighter who's never been submitted, you shouldn't go spending your win bonus.
Werdum can win, of course: Emelianenko is human, no matter what the message-forum forensics indicate. Anyone can be caught. But it'll probably take a big power puncher to do it. And that's not Werdum's game.
What it means: For Emelianenko, a chance to continue a nearly flawless career; for Werdum, a chance to win and then get a big money offer to get beat up by Lesnar.
Of note: Werdum choked out Emelianenko's brother Alexander -- and while Alistair Overeem would probably be the more anticipated fight for Emelianenko, Werdum beat him in 2006.
Wild card: Emelianenko's stand-up has looked increasingly stiff in recent bouts, while Werdum looked sharp outboxing Silva.
Who wins: Emelianenko hits harder, feet or ground, and has shown very little vulnerability in the grappling department. Werdum survives but doesn't celebrate. Fedor by decision.