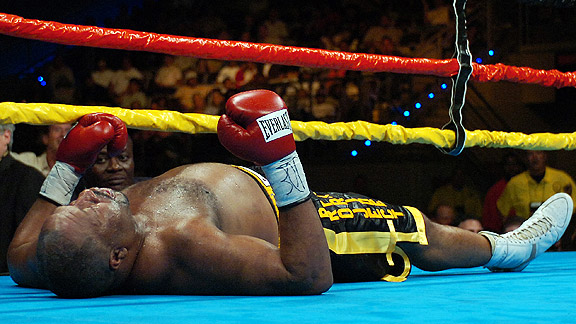 AP Photo/Steve Mitchell
Expect Ray Mercer to assume this position when he meets Tim Sylvia in June.
Once scheduled for a New Jersey "Adrenaline" card -- before that state commission coughed up a patronizing chuckle and shook its collective head "no" -- a flashing neon light of a dumb boxing match between Tim Sylvia and Ray Mercer is now set to go off June 19 at an optimistically spacious 17,000-seat Birmingham, Ala., arena.
As the above promotional video shows, the 48-year-old Mercer moves with the speed and grace of a fighter who shouldn't be granted a license to work over a heavy bag, much less anything with a nervous system.
And what of Sylvia, the once-feared UFC heavyweight champion who has gone from challenging Fedor Emelianenko to toiling in a state with no athletic commission -- and in a boxing match against someone who would test positive for Metamucil?
Those curious to see how a competent mixed martial artist will fare in a stand-up bout are better served anticipating Andrei Arlovski's June 27 debut on a Golden Boy card. Opponent is TBA.
TBA could be a kangaroo, and it would be less farcical than this fight.