The two schools are separated by only 84 miles as the crow flies along Texas State Highway 6.
Baylor and Texas A&M have been longtime rivals, playing a 99-game series that predated their memberships in the Southwest Conference. Both joined the Big 12 together in the continuation of a bitter rivalry that has been played yearly since 1945.
It may not seem as heated now as in the past when Grant Teaff squared off with Jackie Sherrill or later, R.C. Slocum. Even the Guy Morriss-Dennis Franchione rivalry developed into a good one with some barbs thrown from both sides on both sides.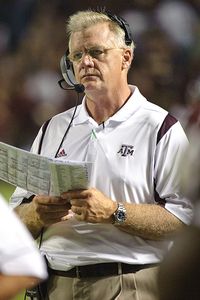 AP Photo/Dave Einsel
Texas A&M head coach Mike Sherman Aggie's can gain bowl eligibility with a win over Baylor.
Saturday's game will have some meaning unlike many recent Baylor-A&M games because both teams still have legitimate bowl hopes.
Baylor senior safety Jordan Lake grew up in a family where his father was a former Baylor student. Like all Baylor students, they reveled in the Bears' 41-20 victory last season in Waco that ranked as their biggest triumph in the series since 1980. And they also delighted in the Bears' wild 35-34 overtime triumph in 2004 after A&M had thumped them in College Station by 63 points the year before.
"My dad always had a dislike for A&M," Lake said. "From the beginning, I knew there was a rivalry tension there. And the way we've played the last couple of years has helped it rise to where it was back in the 1970s and 1980s."
Mike Sherman and Art Briles appear to have a respectful relationship heading into Saturday's game that will be played for some big stakes at Kyle Field.
Both teams have simmering postseason hopes heading into the game, although both have fallen dramatically in recent weeks.
Baylor (4-6) started the season strongly with an opening-game victory at Wake Forest. But the Bears lost their home opener to Connecticut and Robert Griffin went down with a season-ending knee injury the following week as the Bears have tailed off since then.
Their 47-14 loss to Texas last was their fifth in the last six games and actually seems closer than it really was. The Longhorns jumped to a 40-0 lead before Baylor scored two late touchdowns on the Texas backup defensive unit.
A&M (5-5) has faced similar recent struggles and bottomed out in their blowout 65-10 loss at Oklahoma.
The Aggies had enough problems against the Sooners in simply cleanly fielding punts or kicks. A&M fumbled or muffed five kicks to spark Oklahoma's 42-10 halftime lead. That run of struggles enabled the Sooners to run off 51 straight points en route to the wide margin of victory.
It marked the second time this season that an opponent has hung at least 60 points on the Aggies and the third time that they have lost by at least four touchdowns.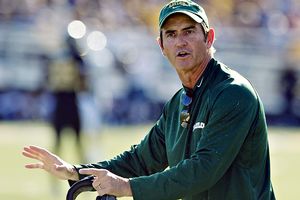 AP Photo/L.G. Patterson
Baylor head coach Art Briles needs to beat Texas A&M to have a chance to go bowling.Those blowout losses haven't undermined the progress of a young team that features 27 freshmen and sophomores in its two-deep roster.
"We're fine," senior safety Jordan Pugh said. "We just look at it as something that we've got to fix. We looked forward and moved on."
A victory would push the Aggies into their first bowl game under Sherman. But A&M players have simpler thoughts about Saturday's game.
"It's just important for us to win, period," Pugh said. "Getting a bowl game would be fun, but winning is our major focus now."
To gain bowl eligibility, the Bears would have to win their first game at Kyle Field since 1984 and then defeat Texas Tech next week at the new Dallas Cowboys' Stadium in Arlington, Texas.
Playing meaningful games in late November is new for a Baylor program that hasn't gone bowling since 1994. But the Bears are excited about the challenges that will be facing them -- even if they are perceived to be a long shot to accomplish those goals.
"A lot of people outside this locker room have written us off for awhile. When Griff went down, so did Baylor, they thought," Baylor senior middle linebacker Joe Pawelek said. "We still have a shot to make this a special season. It starts with A&M this week. And we're just looking to extend the season for one more week."
The Aggies can make a bowl trip by winning one of their last two games. And obviously, the game against Baylor looks much more winnable than their remaining game against No. 3 Texas on Thanksgiving night.
"They all know that," Sherman said about his team's bowl hopes. "I usually don't make a big deal about the obvious. I think they know how important these games are."