We've seen the clip hundreds of times.
A red-faced Tim Tebow, fighting back tears, standing at the podium last season after the shocking home loss to Ole Miss and promising anybody that would listen that nobody would work harder the rest of the season than him and his teammates.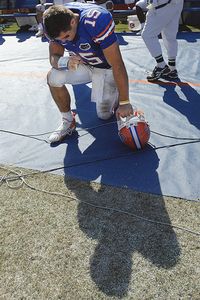 AP Photo/Phil Sandlin
Florida quarterback Tim Tebow and the Gators haven't lost since September 27, 2008 against Ole Miss.It will go down in Florida lore simply as "The Promise."
It's since been immortalized, engraved on a plaque and placed just outside the entrance to the new football facility at the Swamp.
What's happened between then and now is the Gators haven't lost a football game. They've won 22 games in a row, including an SEC championship and national championship, and own the nation's longest active winning streak.
In short, they've been perfect since the promise.
It hasn't been easy, though. In fact, Florida coach Urban Meyer admitted several times this season the pressure of living up to such lofty standards took its toll on the Gators in more ways than one.
Simply winning wasn't enough, not with everybody on defense returning and one of the greatest college football players of our era playing quarterback.
So when the offense struggled or the Gators struggled to score touchdowns in the red zone or struggled to put teams away, everybody wanted to know what was wrong.
It's the kind of scrutiny that comes with the territory when you're one of the biggest favorites to repeat as national champions in a long time.
Meyer admitted Sunday that it was overwhelming.
"It felt like it was on you the entire year," Meyer said. "This year, it felt like if you didn't beat a team a certain way (fans were disappointed). We beat a very good SEC team (Tennessee) early in the season, and people were saying, 'What happened? You didn't play very well.'
"That's where we were. The players felt it. The coaches felt it."
Unlike a year ago, the Gators don't blow into this game having crushed everybody in their path. Following that loss to Ole Miss in 2008, the closest anybody came to them heading into the SEC championship game was 28 points.
Granted, the 37-10 win over Florida State last Saturday was over about as soon as it started, but the Gators have had to grind more than a few times this season to come out with wins. The Tennessee, LSU, Arkansas, Mississippi State and South Carolina games were all decided in the second half, and most of those went into the fourth quarter.
So if nothing else, this Florida team is battle-tested for a game you know will almost certainly come down to the fourth quarter.
The Gators are also perfect, which was one of their stated goals coming into this season. No Florida team has ever finished a season unbeaten.
It's also been 12 years since an SEC team won the national championship with an unblemished record.
These Gators have a chance to etch their rightful place among the greatest teams in college football history if they can extend their winning streak to 24 straight games.
Who knew what kind of run was in store for Florida when Tebow made his now-famous promise a little more than 14 months ago?