In a college football season that largely went according to plan, the Big Ten campaign followed a familiar script.
Ohio State once again emerged as the conference champion, a title it has owned six times this decade. Not far behind the Buckeyes are Iowa and Penn State, two teams also projected to challenge for the title. The Big Ten stuck to its roots and played ferocious defense, boasting the nation's finest collection of down linemen. On the flip side, the quarterback position continued to plague the conference.
The truth is, not a lot changed in the Big Ten this year.
Michigan struggled again, and Illinois continued its post-Rose Bowl nosedive. Iowa and Northwestern built on momentum generated last season, while Wisconsin reclaimed its place among the league's better squads. Ohio State won the league despite just two first-team all-conference players, while Penn State pounded inferior teams but struggled in its two showcase games.
The league once again took its lumps in nonconference play, going 5-9 against BCS conference teams and Notre Dame. But the Big Ten boasts three top 15 teams and will send two squads to BCS bowls for the fifth consecutive season.
Despite the status quo feeling of the season, there were plenty of exciting moments.
Iowa mounted the best start in team history, winning its first nine games, eight in come-from-behind fashion. Michigan and Notre Dame provided an entertaining shootout, which elevated hopes before both traditional powerhouses went kaput. Purdue ended long slides against ranked teams and at Michigan Stadium, while Indiana showed some improvement despite all-too-familiar results. Michigan State found itself in several of the league's most thrilling games (Michigan, Notre Dame, Iowa, Minnesota), but the Spartans struggled to overcome inconsistent play.
All of this brings the Big Ten to a familiar place, needing to prove itself in the bowls to regain national respect. The league flopped last year, going 1-6 in postseason play, and extended its losing streak in BCS bowls to six.
The bowl lineup looks more manageable this year, but coaches and players around the Big Ten understand the urgency to get results in the coming weeks.
Offensive MVP -- Wisconsin RB John Clay
There weren't many viable candidates in a defense-driven league, but Clay rose to the top with his punishing running style. After a hiccup against Wofford, the sophomore embraced a featured role and eclipsed 100 rushing yards in seven of his final nine games, including each of the last five. Clay ranks 14th nationally in rushing (116.3) and was the lone Big Ten back to average more than 100 rush yards per game.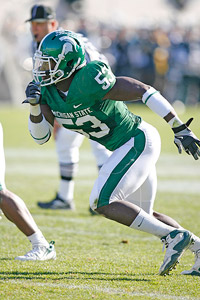 Brad Schloss/Icon SMI
Michigan State linebacker Greg Jones led the Big Ten with 141 tackles.
Defensive MVP -- Michigan State LB Greg Jones
A much tougher call here, as you could make a case for 10 defensive standouts. Jones gets the nod because of his ability to find the football on seemingly every play. He led the Big Ten and ranked third nationally with 141 tackles and also led Big Ten linebackers with nine sacks, which ranked fifth overall in the conference. Honorable mentions go to Michigan's Brandon Graham, Penn State's Navorro Bowman and Jared Odrick, Iowa's Adrian Clayborn and Pat Angerer, Wisconsin's O'Brien Schofield, and Ohio State's Kurt Coleman.
Coach of the Year -- Iowa's Kirk Ferentz
Another tough decision between Ferentz and Ohio State's Jim Tressel, who amazingly has never won the award. While Tressel deserves a ton of credit for getting Ohio State back on track after an Oct. 17 loss at Purdue, Ferentz encountered major obstacles seemingly every week. Iowa battled injuries from the preseason until early November, when quarterback Ricky Stanzi went down against Northwestern. The Hawkeyes also had the league's toughest road schedule and nearly went 4-0. For a guy that some wanted out after three mediocre seasons and a wave of off-field problems, Ferentz has restored his place among the nation's elite coaches.
Biggest surprise -- Wisconsin
The outlook in Madison looked pretty gloomy in early August, as Wisconsin had seen its wins total decrease in each of the last two seasons. Throw in another quarterback competition and major questions throughout the defensive front seven, and Wisconsin entered the fall with fairly low expectations. But Bret Bielema's team improved in almost every area. The Badgers boast a balanced offense of Clay's power running and an effective play-action pass attack operated by surprising quarterback Scott Tolzien. The defense got younger but better, as Big Ten Freshman of the Year Chris Borland emerged at linebacker.
Biggest disappointment -- Illinois
Ron Zook's team receives this undesirable distinction for the second straight year after a miserable 3-9 finish. The Illini are 8-16 since their surprise Rose Bowl run in 2007, and while Zook is expected to return next fall, the program is losing momentum on the recruiting trail and at the ticket booth. Things went downhill from the get-go, as Illinois fell flat against Missouri in the opener. Juice Williams and the offense took a long time to get going, and by that point, the defense was a mess. Other disappointments included Michigan, which didn't beat an FBS team in October or November to fall out of bowl contention. Michigan State and Minnesota also fell short of expectations.
Game of the Year -- Ohio State 27, Iowa 24 (OT), Nov. 14
A lackluster end to regulation shouldn't spoil a memorable game, and both Iowa and Ohio State provided plenty of drama at The Shoe. Hawkeyes backup quarterback James Vandenberg nearly became a state hero as he tried to rally Iowa to a Rose Bowl berth in his first career start. Iowa mounted one of its patented rallies, but the Buckeyes prevailed in the end as backup kicker Devin Barclay, a 26-year-old former Major League Soccer player, nailed the game-winning field goal in overtime. Honorable mentions go to Iowa-Michigan State (Oct. 24) and Michigan-Notre Dame (Sept. 12).