Army freshman quarterback Trent Steelman acknowledges his motives for beating Navy this weekend are a little selfish.
While he'd like to be the first quarterback to defeat Navy since 2001 and send the Black Knights to their first bowl game since 1996, Steelman also knows that a win over Army's archrival would get him get him out of some of his daily chores.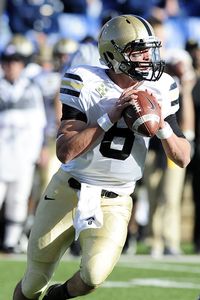 Ron Chenoy/US Presswire
Army Black Nights quarterback Trent Steelman hopes to lead his team into a bowl game with a victory against Navy this weekend."When we beat Navy, Plebes get recognized where we don't have to do as many of the duties we have to usually," Steelman said. "It would just make my life easier."
Army has had more than two weeks to prepare for Navy because the Black Knights haven't played since Nov. 21. In that time, Army has bonded as a team and been able to insert plays they normally wouldn't have been able to run with just a week to prepare.
"These last couple weeks have just helped our team come together even more," Steelman said. "Just being able to see each other each and every day and play against our No. 1 defense and just go at it a little bit. We raised the intensity at practice. I think we're there. I think we're ready to play right now."
Steelman watched this game from the stands last year. As the starting quarterback for the U.S. Military Academy Prep School, Steelman said he knew he'd get to experience this game as a member of the Army football team, but he didn't think it would be so soon. Steelman has played in all 11 games this season, which he said would help his nerves against the Midshipmen. He leads the team in passing with 560 yards, three touchdowns and an interception and leads the team in rushing with 690 yards and five scores. Steelman accounts for 40 percent of both the Black Knights offense and scoring.
"I just tell myself that it's another game, it's football and I've been playing this game my whole life," Steelman said. "I've just been kind of approaching it like that these past couple weeks and just trying not to think about it too much. Just being able to start 11 games has helped me calm down so much before games. Just having that experience just really helped me a lot."
Steelman said Army feels like it's missed out on several opportunities to be bowl eligible already this season, especially with a 17-16 loss to a 3-9 Tulane team. But Army is trying not to dwell on what could have been. It has five wins for the first time since 1996 and earning a spot in the EagleBank Bowl after a win against Navy would be the fitting way to end this regular season.
"I think a win over Navy would just top things off for our season," Steelman said. "It would just define what this team is about and the heart that we've displayed and the adversity that we've had to overcome."