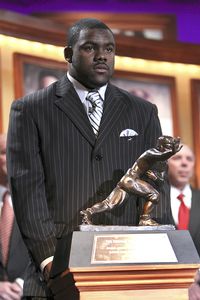 AP Photo/Kelly Kline
Mark Ingram became the first player in Alabama history to win the Heisman trophy.Running back Mark Ingram became the first Alabama player to win the Heisman Trophy on Saturday.
Ingram, who rushed for 1,542 yards, an Alabama record, and 15 touchdowns, led the Crimson Tide to an undefeated season and a berth in the BCS national championship game.
The 2009 Heisman race was the closest in history. Ingram becomes just the third sophomore to win the trophy, but the third in a row following Tim Tebow in 2007 and Sam Bradford in 2008.
Stanford running back Toby Gerhart finished second, just 28 points behind.
Click here for all of college football's major award winners this season.