The next time somebody tells you that the Heisman Trophy is nothing more than an overhyped award that lost its luster a long time ago, mention the name Mark Ingram.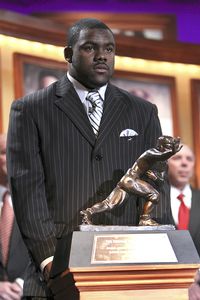 AP Photo/Kelly Kline
Mark Ingram became the first player in Alabama history to win the Heisman trophy.
There was no hiding his emotion Saturday in the Nokia Theatre. He slowly exhaled several times, doing his best to compose himself. His voice cracked, and then he cried.
Admittedly overwhelmed, Ingram thanked everyone -- Nick Saban, his parents, his teammates, his sports information directors, even his teachers at Alabama.
He understood unequivocally how historic the moment was in the realm of Alabama's proud football history.
Of all the great players who'd come before him – Joe Namath, Ken Stabler, Ozzie Newsome, Cornelius Bennett, Lee Roy Jordan and Shaun Alexander – Ingram became the first Alabama player to hoist the Heisman Trophy as his own.
Sure, there probably have been better players to come through Alabama than Ingram, the third straight sophomore to win college football's most prestigious individual award.
But I can't imagine there's been one who went from role player to great player any quicker or one who's consistently performed any better on the biggest stages than Ingram has this season. After all, he wasn't even a starter a year ago.
In five games against top 25 teams this season, Ingram averaged 165 yards per game in wins over No. 1 Florida, No. 7 Virginia Tech, No. 9 LSU, No. 20 Ole Miss and No. 22 South Carolina. He faced six of the top 28 defenses nationally and averaged 154 yards in those six contests.
And after that first hit, he had few peers when it came to gaining yardage after contact. Alabama's senior offensive guard, Mike Johnson, said it best after Ingram set a Bryant-Denny Stadium record this season with 246 rushing yards against South Carolina.
"All he needs is a crease, and he's going to do the rest himself," Johnson said.
A lot of people probably didn't see this coming from Ingram, certainly not this quickly. But early on, Saban knew he was onto something special.
I still remember sitting in Saban's office two Augusts ago. Everybody in the state of Alabama was buzzing over the recruiting class the Crimson Tide had signed that February. Most of the analysts had it ranked No. 1 in the country, and some of the guys in that class had already reached rock-star status in the state.
At the time, Ingram wasn't one of the big-ticket items in the class. He'd come from Flint, Mich., and wasn't one of the freshmen everybody was clamoring about.
Saban had seen the freshmen practice for maybe a week, and I asked the proverbial "Who stood out?" question.
The first name out of his mouth … Mark Ingram.
Call me biased, but I think the Heisman voters got this one right. Having seen Ingram play live five times this season, I can say with confidence that he's as complete a running back as I saw play all season.
To rush for 1,542 yards, score 18 touchdowns and lose just one fumble in 279 offensive touches is an amazing accomplishment in its own right. But he's also an excellent blocker and caught 30 passes.
He's the first player in SEC history to rush for 1,500 yards and catch 30 passes in the same season.
Make no mistake. Ingram played on a great team this season and was surrounded by great talent.
But it's nice to see that his great season was appropriately awarded.
And even nicer was to see how much it meant to him.