Iowa quarterback Ricky Stanzi had a lot of time to think as he made the long drive Tuesday from Iowa City to his home in suburban Cleveland.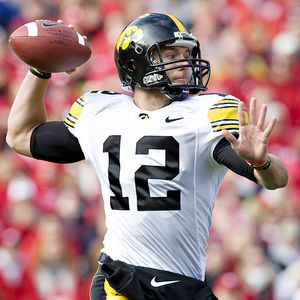 Jeff Hanisch/US Presswire
Iowa quarterback Ricky Stanzi will be back on the field for the first time in 59 days when he starts for the Hawkeyes in the Orange Bowl.Georgia (Tech) certainly was on Stanzi's mind. His right ankle? Not so much.
"The ankle's good," Stanzi told me Tuesday, about one-third of the way through his drive. "I've been able to practice 100 percent each day for the last three weeks. So that's not been a problem. That'll be something I won't have to worry about."
The last time we saw Stanzi on the football field, he was on his back in the north end zone at Kinnick Stadium. His ankle had been severely sprained following a hit by Northwestern's Corey Wootton, and the injury would keep him sidelined for the rest of the regular season.
That was 46 days ago. When Stanzi steps on the field Jan. 5 against Georgia Tech in the FedEx Orange Bowl, he'll end a 59-day layoff between snaps.
The long lull certainly can't be dismissed, and Iowa is addressing it in its preparation by using each week this month as if it were a game week. But Stanzi is confident he and his teammates will be ready to go against Tech.
"I'm sure when the game time comes, it'll just be regular routine," he said. "You do it so many times that it's weird more so when you're not in there than it is when you have to be thrown back in there after a while. I don't see it being a problem. I haven't thought of it as weird at all throughout practice, to get back into the swing of things after being off for a couple of weeks."
Stanzi also remains confident that the offense will re-establish the chemistry it had with him at the helm. Iowa never lost a game that Stanzi finished, and Stanzi owns a 17-4 record as the Hawkeyes starter.
After Stanzi went down against Northwestern, his teammates candidly told of what he meant to the offense.
"There's no doubt that we're a different team when Rick Stanzi's in there," wide receiver Derrell Johnson-Koulianos said. "We had a gift in Ricky."
A gift the Hawkeyes get back for the bowl game.
"You can get a feeling about whether a team clicks or not, and our team has that," Stanzi said. "Some of the leaders who have been here for a while, we've played a lot of football together, whether it be spring ball or actually this season and camp. We've put in a lot of time and a lot of effort together, and those things have been showing up on the field for us.
"There's definitely a sense of camaraderie within our team, and it's a good team feeling to have that when you're going into a big bowl game and you have a big [layoff] where things can get rusty but guys all have the same goals. When you have that, it definitely leads to good things."
Stanzi is very aware of the task ahead of him in Miami. Georgia Tech's defense looks fairly average on paper, but the Yellow Jackets boast several individual standouts, including end Derrick Morgan.
"With Morgan coming off the edge, there's not a lot of guys who do it as good as he does," Stanzi said. "It's definitely a different type of defense with the aggressive side and a number of big-name players they have over there that we have to try to isolate."