NEW ORLEANS -- The breakout star at the Allstate Sugar Bowl this week, at least in terms of media popularity, has been Cincinnati defensive lineman Alex Daniels.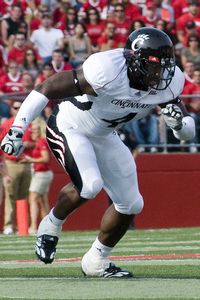 Duncan Williams/Icon SMI
Cincinnati defensive lineman Alex Daniels has had a long road to the Sugar Bowl.The senior, who didn't play much before this season and was rarely heard from during the year, has embraced the spotlight in the buildup to Friday's game against Florida. With his mohawk haircut and booming voice, Daniels would be a natural attraction for reporters. It also helps that he has quite a story to tell.
It's a tale that has become familiar for the scrappy Bearcats: the lowest of low points, adjusting to change, capped with redemption.
Daniels was one of the nation's top recruits as a high school senior in Columbus, Ohio, in 2005. More than 150 colleges offered scholarships, including some of the top programs in the nation. He decided to go to Minnesota, where he played linebacker as a true freshman and then moved to running back as a sophomore, finishing second on the team in rushing that year.
In 2007, though, Daniels and three other players were kicked off Minnesota for alleged sexual misconduct involving a woman whom prosecutors said was too intoxicated to give consent. Teammate Dominic Jones was the only one of the four charged with a crime, and he was convicted of fourth-degree criminal sexual conduct thanks in large part to a video of the incident that Daniels shot on his cell phone's camera.
While Jones served time, Daniels found his own kind of punishment. Humiliated, he returned to Columbus and the crime-infested neighborhood where he grew up.
"That was the first time for me with no football since I was 7," he said. "I was depressed, I was crying, I was emotional. I didn't know what I was going to do."
He put out feelers to colleges to see if anyone would give him another chance. Cincinnati coach Brian Kelly decided to stick his neck out for him, provided that Daniels pay his own way to school for a year and keep his nose completely clean.
Coming up with tuition, much less room and board, wasn't easy -- "my mom was a single parent, and we didn't really have nothing," Daniels said. For a while he drove back and forth from Columbus to Cincinnati. But with gas prices soaring and his 2000 Crown Vic having a hungry tank, Daniels said he spend nine or 10 nights sleeping in his car. (It's a story reminiscent of wideout Mardy Gilyard's, who slept in his car after having his scholarship revoked after his freshman year. Just call them the Boxcar Bearcats.)
Daniels worried for his own safety on the streets of Cincinnati, so he asked Bearcats linebacker Torry Cornett and running back Jacob Ramsey if he could bunk with them in their dorm room. That meant squeezing his 6-foot-4, 260-pound frame onto an air mattress in their dining area.
He took out student loans, he borrowed books for class. He said he even applied for food stamps but got turned down. He worked as car salesman at Jake Sweeney Automotive in Cincinnati.
"I sold a couple of cars," he says with a big grin. "I've got a nice face. I can sell anything."
Through all of that, Daniels said, he was forced to mature and confront his mistake in Minnesota.
"Imagine a 19-year-old kid ... being put out on the street and really having to figure out what do in life," he said. "It was a bad situation I put myself into. I felt like I paid for it, I dealt with it, I stepped up to the plate as a man. And I grew up overnight."
Daniels played mostly as a reserve last year but became a starter and a team leader as a senior. He had 50 tackles and a team-high 6.5 sacks in the regular season. He says his past experiences keep him from getting down if something bad happens in a game, and he tries to pass that attitude on to teammates.
"This team wouldn't be the same if he wasn't here," linebacker Andre Revels said.
"He's played great, and he's also really changed his life," linebacker JK Schaffer said. "We're all really proud of him."
While reporters wanted to know about Daniels' interesting past, he is soaking in the present. No player on either team seems happier to be in New Orleans this week.
"It's been a rocky road for me, but right now we're playing against Florida, man! Come on," he said, his voice rising like a preacher's. "This is like my national championship."