NEWPORT BEACH, Calif. -- Hunter Lawrence's place in Texas football history was cemented by one play. It's the kind of moment which meant he wouldn't be buying many drinks in Austin the rest of his life.
Amazingly, Lawrence's game-winning 46-yard kick against Nebraska was the first time he was challenged to convert a game-winner in the final seconds in his football career.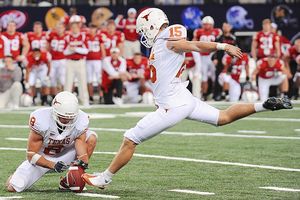 Ronald Martinez/Getty Images
Texas kicker Hunter Lawrence's game-winning kick against Nebraska put the Longhorns in the BCS National Championship Game."I had never tried one in that situation before," Lawrence said. "And after kicking it, it's given me a lot of confidence."
Despite providing one of the most spectacular plays in Texas' football history, Lawrence's heroics have a short shelf life. He realizes his legacy will be determined as much by upcoming kicks in Thursday's BCS National Championship Game as the one that got them to the game.
"That kick was a good thing, but you can't think about it all the time or dwell on it," Lawrence said. "You have to put it away and move on."
Lawrence's kicking will be critical for the Longhorns in Thursday's game against Alabama. He's had the most consistent stretch of his career, converting 22 of 25 field-goal attempts for an .865 career field-goal percentage -- highest in the history of the school.
The late binge was a marked contrast after Lawrence's rocky start when he arrived at Texas in 2006. Lawrence initially failed to live up to the promise that made him one of the first kickers to receive a full scholarship in the Mack Brown era after a stellar career at Boerne High School in the suburbs of San Antonio.
Lawrence was involved in a tight battle as a freshman and eventually was beaten out for the kicking job by Ryan Bailey during the 2006 season. Bailey made the most of his opportunity, converting all six field goals including the game-winning kick in a howling snowstorm at Nebraska that earned him the Longhorns' kicking job for most of the his first two seasons.
Instead, Lawrence handled the kickoff duties, waiting for his chance to challenge for the regular place-kicking job later in his career.
"This place is pretty intense and it took me awhile to get used to it," Lawrence said. "You have to put in the work to win the job. You can't just walk in here and get stuff handed to you. There's a lot of work involved."
Bailey handled the job in the 2007 season and early in 2008 before Texas coaches opened competition again last season. That time, Lawrence claimed the starting job and lived up to his promise by converting nine of his first 10 kicks en route to leading the team with 90 points.
The close competition with Bailey boosted Lawrence's development.
"It's helped me a lot," Lawrence said. "He's a heck of a kicker and we've competed back and forth over the years. We kind of pushed each other to keep getting better and better. And after having done it for so many years, it's made me better."
Lawrence reclaimed the starting job in another tight battle that wasn't settled until shortly before the season.
"He made a lot and I made a lot. Neither one of us missed too many in two-a-days," Lawrence said. "It could have gone either way. He was kicking really well and so was I. Both of us were only one or two kicks away when it all ended up."
That constant competition steeled Lawrence's concentration for the game-winner in the Big 12 title game. Although he hadn't faced many clutch kicks in games, battling with Bailey made for some similar competitive situations at Texas practices that had him ready for his shot against the Cornhuskers.
"I've probably been more nervous in some practices than I have in games," Lawrence said. "But that's a good thing. That pressure being kept on you makes it all seem game-like when you finally get the chance in the game."