Marc Weiszer, who covers Georgia for The Athens Banner-Herald, dug up some interesting research earlier this week about where Mark Richt rates nationally in longevity.
Everybody knows in SEC country that he's the dean of this league as he enters his 10th season. But nationally, he's tied for 10th among the longest tenured coaches at all FBS schools.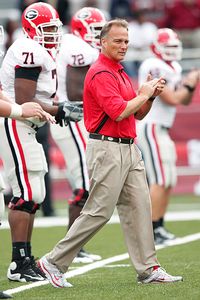 Nelson Chenault-US PRESSWIRE
Georgia coach Mark Richt ranks 10th nationally in coaching longevity.Geez, wasn't it just yesterday that Richt was being announced at Georgia?
That was Dec. 26, 2000, and a lot has obviously changed in the SEC since then. Since Richt's hiring, there have been 20 head coaching changes in this conference.
In fact, since Richt's arrival, Georgia is the only school in the league that hasn't changed head coaches at least once.
Steve Spurrier told me last summer that he doubts the SEC will ever see a head coach again who endures at one place for 16 or 17 seasons the way Phillip Fulmer did at Tennessee.
The money coaches are making these days is out of control. The pressure to win (right away) is even more out of control.
But if there's going to be another guy who makes it 15-plus years in this league at the same school, my money's on Richt.
Unquestionably, this is a key season upcoming for him. He just recently hired a new defensive coordinator, Todd Grantham, after gutting his defensive staff, and the Bulldogs are coming off one of their most unfulfilling seasons since Richt took the job.
But in 2010, the Eastern Division race will be as wide open as it's been in some time when you consider all the key players Florida is losing.
The Bulldogs need to make a move if Richt's footing is going to remain strong. The most rational Georgia fan wouldn't debate that.
But before anybody thinks Georgia might be better off without Richt, consider for a second how consistent he's been. He's never won fewer than eight games in a season and finished in the Top 10 in the final polls six of his nine seasons in Athens.
New isn't always better, either.
It remains to be seen if anybody can catch Alabama in this league. For that matter, can anybody catch Florida?
If anybody can, I would go with Richt and the Bulldogs. He's shown a willingness to change by overhauling his defensive staff, and they're again working on a top 4 recruiting class nationally.
And even after a disappointing season in 2009, the team didn't get away from him and actually played its best football at the end.
Let's see what the next couple of seasons hold for the Bulldogs before we start writing Richt's demise.
In a league that chews up and spits out coaches, Richt has been the exception to the rule.
And that's not by accident.