North Texas coach Todd Dodge knew after the final game of the 2009 regular season that he'd be retained for another year, but the leash wasn't going to get longer than that.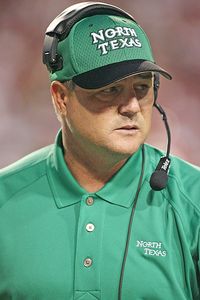 Nelson Chenault/US Presswire
North Texas coach Todd Dodge needs the Mean Green to break through this year to keep his job.In three years as the head coach of the Mean Green, Dodge has won just five games. But last year, the Mean Green were as competitive as they've ever been under Dodge. Six of UNT's 10 losses were by seven or fewer points and five of those losses were by four or fewer points. North Texas athletic director Rick Villarreal saw the progress, which prompted him to keep Dodge on board, but Dodge knows he needs to show major progress to stay beyond 2010.
"It's a deal right now that we've got to win football games," Dodge said. "I don't believe that four or five wins is going to get it done. It's going to take six or seven wins to get it done. That's something that's been explained to me, but it's also something that before it was ever explained, that's an expectation that I and my coaching staff and my players have. You can call it under the gun or whatever it might be, and that's fine. I don't mind working under that situation. It's a motivation. It's a challenge. We kind of know what we've got to get done."
Dodge acknowledges he thought his team could win six games in 2009 and, after beating Ball State to start the season, that belief became even stronger. But then things started to unravel. The Mean Green lost by a point in overtime to Ohio and then were blown out by Alabama. They lost six straight after that initial win and even though they beat Western Kentucky in that eighth game, Dodge knew the season was slipping away.
Dodge can point to a moment in each of the Mean Green's losses last year that the game changed -- a defensive penalty here, an offensive penalty there, all moments that turned a potential win into a loss.
"It was the mistakes in crucial situations in the ball game," Dodge said. "When you lose, literally our last three were all by four points. That's the thing we're really focusing on this offseason. We've got to do a great job of identifying what our problems were, make sure we don't turn a blind eye to them, and grind through the offseason becoming a more disciplined team. You can shake it out any way you want, but we've got to be a more disciplined team in crucial situations for four quarters."
Despite the lack of success, Dodge heads into this spring with confidence. He returns 19 players with starting experience and he said this is the first time he's had the kind of continuity he's needed to build a winning squad. Both UNT's quarterback, Riley Dodge, and star running back, Lance Dunbar, return, as do the team's top six receivers. He also brought in former South Florida offensive coordinator Mike Canales to help with the offense.
Defensively, most of the top players return and while that's been a weak side of the ball for the Mean Green, Dodge saw them get better as the season progressed.
But what gives Dodge the most hope heading into 2010 is that through everything, he never lost his team. He never thought they stopped playing or gave up. Unlike in past years, Dodge has several good moments to point out that his team can build on and that's his plan as he heads into this pivotal year.
"When you get down the stretch and you haven't won any games you feel you should have, there is a tendency late in the year for the attitudes to head south and that kind of stuff," Dodge said. "There was none of that. The difference in our football team obviously wasn't in the wins from 2008 to 2009, but the expectation. With the exception of the Alabama game, the Monroe game and the Troy game, the other nine, we were right in the hunt in all those.
"Again, I can go back in any of those losses and pick out about four plays and they were the difference makers. And what we've got to do as a football team is turn those four or five difference-making plays into positives in our favor."