It's been a fairly quiet spring for Oregon State running back Jacquizz Rodgers. That's typical and how he likes it.
There are no issues or controversies with Rodgers. Just production. He's established and has little to prove. The only mystery is how spectacular his numbers will be in 2010.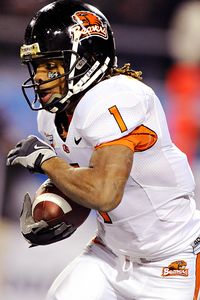 Kirby Lee/US PRESSWIRE
Oregon State running back Jacquizz Rodgers wants to break off more long runs for touchdowns this season.He will enter his junior season needing 1,169 yards rushing and eight touchdowns to move into second place on the Beavers all-time list, numbers he easily eclipsed his first two seasons, once as the Pac-10 Offensive Player of the Year -- the first true freshman to win the honor -- and the second as a first-team All-Pac-10 running back. At his present trajectory -- if he opts to play two more seasons -- he'll end up second on the Pac-10's all-time rushing list behind former USC Heisman Trophy winner Charles White.
It's not a question of whether Rodgers will be good. He'll be a preseason All-American. Then he'll chew up yardage as a runner and receiver. It's a near-certainty, barring injury.
The question is how good? Will he be Heisman Trophy good?
The Pac-10 has plenty of candidates, though the list was whittled down by one when Oregon quarterback Jeremiah Masoli was suspended for the season: Washington quarterback Jake Locker, Oregon running back LaMichael James, USC quarterback Matt Barkley and Stanford quarterback Andrew Luck, to name the obvious possibilities.
Rodgers mostly shrugs when asked about the Heisman -- "I'm just out here playing football," he said -- but he is aware of Masoli's unexpected absence and what that might mean for the Pac-10 frontrunners, who happen to be the Beavers arch-rivals.
"Anytime you lose anybody that important to your offense, it's going to set you back just a bit," Rodgers said.
More than a few Pac-10 fans see Masoli's absence, as well as USC's 2009 slide, as beacons signaling that the conference is as wide open as it was pre-Pete Carroll, when eight different teams won or shared the title from 1995-2001.
So, does Rodgers see the Beavers stepping to the fore because Masoli is out? Absolutely.
"But even if he was there, I'd feel the same way," he said.
Oregon and USC are still almost certain to be atop preseason predictions for the Pac-10. The Beavers, a solid No. 3 pick, might have received more of a boost among prognosticators after the Ducks off-field woes and the Trojans coaching change if not for the unexpected defection of two starters from their defense: linebacker David Pa'aluhi and end Matt LaGrone.
But the impressive spring produced by sophomore quarterback Ryan Katz appears to be solving the Beavers biggest issue, which is replacing Sean Canfield. That might give rise to a simple query: Why not Oregon State?
And if Oregon State, which welcomes back 17 starters from a squad that was just a few Civil War plays away from earning a berth in its first Rose Bowl since 1965, proves to be a contender, Rodgers' Heisman candidacy will gain legitimacy.
What's not to like? His rushed for 2,693 yards and scored 32 touchdowns over the past two seasons. In 2009, he caught 78 passes, which ranked second -- overall, not among running backs -- in the Pac-10. He's fumbled only once in 640 touches. A year after critics pointed out his lack of explosion plays, he produced at least one run over 20 yards in 10 of 13 games.
But Rodgers wants more. Twenty, 30 or even 40-yard runs? Not enough.
"I need to finish off long runs -- score those 60 or 70-yard touchdowns," he said. "That's what's missing from my game."
Rodgers will get a couple of good early showcases. The Beavers brutal nonconference schedule includes matchups with TCU and Boise State, both likely top-10 or even top-five teams. The Sept. 4 opener against the Horned Frogs will be played on a huge stage -- Cowboys Stadium -- which will represent a homecoming of sorts for the native of Richmond, Tex.
The going might not be easy early on, at least until Katz proves he can making plays in the passing game. Defenses will focus on Rodgers, stack the line of scrimmage with defenders and dare Katz to beat them.
But at least one person thinks the best way to get Katz going is to give Rodgers the ball and allow him to do his thing.
"If we get the running game started, that can help a quarterback get started," Rodgers said.
And if the big-armed Katz makes a few plays downfield, things might play out a bit like they did with Toby Gerhart and quarterback Andrew Luck at Stanford last year.
Which would mean an invitation to New York for Rodgers.