Cody Sargent is a student at Clemson who gives the impression he would rather stand guard at The Rock 24-7 than see it vandalized again.
Sargent, who is going to be a junior this fall, had heard some rumors on campus last week that something might have happened to Howard's Rock. On Wednesday afternoon, he and a few of his friends decided to check it out. They walked to Memorial Stadium after lunch to find the gates wide open. He walked right up to The Rock and realized a large chuck had been removed.
[+] Enlarge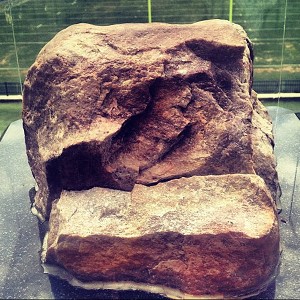 Cody Sargent
A large portion of Howard's Rock has gone missing following an act of vandalism.
"If you've seen the rock, or if you're a Clemson fan, or you've touched it before, you would know there's a huge chunk missing, it's not like a little piece," said Sargent, whose picture of the damage (seen above) spread quickly on Twitter. "You'd know immediately there was something wrong with it."
To some, Howard's Rock is little more than a well-known tradition in college football, but to passionate fans like Sargent, this was one icon you don't mess with.
"I was furious," said Sargent, a native of Greenville, S.C., who estimated he hasn't missed a home game in about 18 seasons. "This is one of the biggest pieces of Clemson tradition. Every football player for almost 80 years has touched this rock. I told someone on campus yesterday when they were asking me why it's a huge deal, it's a huge deal because every member of the Clemson family has ownership of this rock. It means something different to every single person who comes in contact with it. It's an extension to our rich heritage and a product of our past and where we come from and our football tradition, and it also represents us striving for greatness in the future. It's not about the football team winning; it's about Clemson as a whole. That's a huge hit to our hearts."
Clemson plans on increasing the security around the rock so it doesn't happen again.
"We are in the process of making some changes to make it more secure," sports information director Tim Bourret told ESPN.com. "We're looking at installing some cameras and things of that nature, looking into an alarm system."
"It's sad but necessary," Sargent said. "That's a huge piece of Clemson tradition. It means a lot to us. I think it deserves the security."