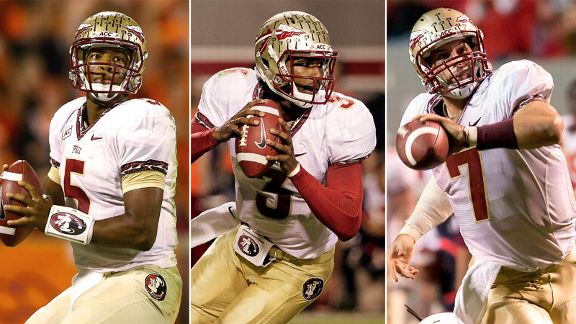 Getty Images, AP Photos
Jameis Winston (left) will try to succeed where E.J. Manuel (middle) and Christian Ponder (right) failed.
On Saturday, Florida State had arguably the best win of any team this season, routing then-No. 3 Clemson 51-14. The Seminoles are 6-0 for the first time since 1999, when they went 12-0 and won the national championship.
Ranked FSU vs Unranked NC State
Last 5 Meetings
Coming off its win over Clemson in Death Valley, Florida State returns home to face what appears to be an easy game against a North Carolina State team that is winless in ACC play. Not so fast...
The Wolfpack have given the Seminoles trouble in recent years. The last four times an AP-ranked Florida State team played an unranked NC State team, the Wolfpack have pulled off the upset.
2012: NC State def. 3 Florida State 17-16
Florida State was 5-0 entering the game in Raleigh last season. The Seminoles jumped out to a 16-0 halftime lead, but were shut out after halftime. Mike Glennon passed for 218 yards and two touchdowns in the second half. EJ Manuel finished with a 33.2 Total QBR, his lowest in any ACC start in his career.
2010: NC State def. 16 Florida State 28-24
Florida State entered the 2010 game 6-1, with its only loss coming at Oklahoma. The Seminoles led 21-7 at halftime, but were unable to contain Russell Wilson in the second half. Wilson had two of his career-high three rushing touchdowns after halftime. Christian Ponder, like Manuel last season, struggled in the second half, committing two turnovers and completing less than half of his passes.
2006: NC State def. 17 Florida State 24-20
Florida State had won three of its first four games when it traveled to Raleigh for a Thursday night game in 2006. Daniel Evans, making his second career start for the Wolfpack, threw three touchdowns and his Total QBR of 69.3 was his highest in any game. Drew Weatherford struggled in the fourth quarter for the Seminoles, completing 4 of 8 attempts for 32 yards with an interception on the final play.
2005: NC State def. 9 Florida State 20-15
Florida State was 7-1 when unranked NC State arrived in Tallahassee in 2005. NC State dominated this game on the ground, outrushing the Seminoles 196-43, including 179 rush yards by Andre Brown.
Weatherford had one of the worst games of his career, throwing three interceptions, two of which were on Florida State's final two drives. He finished with a 9.3 Total QBR.
Ranked FSU vs Unranked NC State
Last 4 Meetings
The common theme for the Seminoles in those four losses was below-average quarterback play. Their combined Total QBR was 29.7 and they had the same number of interceptions (5) as touchdown passes (5).
Quarterback play should not be an issue for the Seminoles this time around with Jameis Winston under center.
Winston is third in the nation in opponent-adjusted QBR (92.5) and is one of three FBS players who have had a Total QBR of at least 75 in all of their games this season. NC State has allowed an opponent-adjusted total QBR of 64.3 this season, the second-worst among ACC teams.
In other words: the challenge may be greater for NC State this time around.