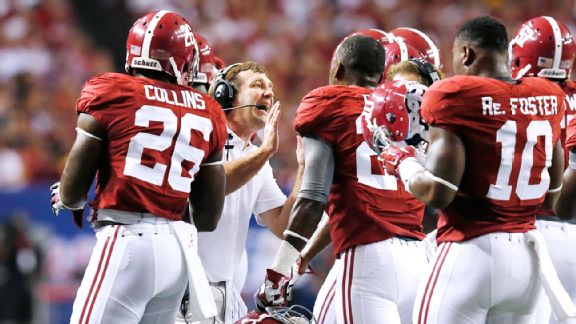 AP Photo/Bryn Anderson
Kirby Smart had a lot to talk to his defense about in the season opener.Although Alabama earned the win last week against West Virginia, the Crimson Tide showed signs of weakness against the pass. West Virginia quarterback Clint Trickett threw for 365 yards, the second-most yards Nick Saban's Alabama teams have ever allowed to one player through the air.
For the first time under Saban, Alabama has allowed back-to-back 300-yard passers, including Trevor Knight in January's Sugar Bowl loss to Oklahoma. Below is a breakdown of what went wrong for the Tide last Saturday, along with a reason for optimism in future weeks.
Struggles vs. tempo
West Virginia averaged 19.3 seconds per play against Alabama, the fastest pace Saban has faced as Alabama head coach. The previous fastest tempo he faced was last season against Texas A&M, when Johnny Manziel averaged 21.1 seconds per plays and passed for 464 yards as the Aggies scored 42 points.
Not only did West Virginia run plays quickly, but its short passing game also neutralized Alabama's pass rush. Alabama pressured Trickett on eight percent of his dropbacks, the Crimson Tide's lowest rate in the last four seasons.
Not Stopping Screens
Trickett completed nine of 10 screen pass attempts for 77 yards. The only time in the last four seasons in which Alabama has allowed that many yards on screens was last year's bowl loss to Oklahoma.
Part of the problem against West Virginia was shoddy tackling. The Tide allowed six broken tackles, the most it has allowed in a game since the 2010 season against Arkansas (also six).
That helped West Virginia rush for 206 yards after the catch, the most yards after catch Alabama has allowed in the last four seasons.
Too Many Long Passes
West Virginia was also able to take the top off the defense with the deep ball. Alabama allowed 17 completions of 10 yards or more to West Virginia, the most the Tide have allowed since the 2009 Sugar Bowl against Utah.
West Virginia Passing vs Alabama
By Air Yards
Much of that damage was done off play action. On play action passes traveling at least 15 yards in the air, Trickett completed all five pass attempts for 110 yards, including his only touchdown.
Overall on play action passes, Trickett completed 15 of 19 passes for 217 yards.
Reason for Optimism:
Reinforcements on the Way
Two key players who missed the West Virginia game are expected to return this week in linebacker Trey DePriest and cornerback Eddie Jackson. DePriest, who was suspended for the opener, was Alabama's only returning starter at linebacker, and his presence was sorely missed against West Virginia's high-tempo offense.
"We made a lot of mental errors," Saban said after the game. "But I think not having Trey DePriest, our signal caller on defense up front, created a little confusion."
Jackson is still working his way back from a torn ACL suffered just over five months ago, but Saban said he will begin to transition back into the lineup this Saturday against Florida Atlantic (Noon ET on SEC Network). He practiced Tuesday in the first-team nickel defense in place of Bradley Sylve, who struggled against West Virginia.
Trickett completed six of seven passes for 127 yards when targeting Sylve, including his only touchdown pass. Jackson, who started four games last season as a true freshman, held opposing quarterbacks to 9-for-17 passing for 99 yards and an interception last season.