LOS ANGELES -- Two common assumptions are proved wrong by one Oregon player.
Oregon, like other Pac-10 teams, thrives on finesse and isn't known for being physical.

Quarterbacks generally shy away from contact, leaving the messy stuff to running backs and linemen.
Now meet Jeremiah Masoli. He's the starting quarterback for Oregon. And he loves contact.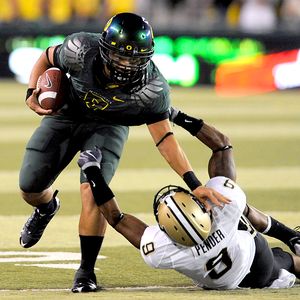 Steve Dykes/US Presswire
Oregon quarterback Jeremiah Masoli doesn't shy away from contact.When Masoli takes off with the football, only one correct assumption can be made.
"He ain't gonna slide," Ducks running back LaMichael James said.
Opposing defenders wouldn't mind if Masoli did. Instead, they have to deal with his 5-foot-11, 220-pound frame.
Usually, the results aren't pretty. Just ask UCLA safety Bret Lockett. Or Oklahoma State safety Quinton Moore. Or Oregon State safety Lance Mitchell.
All three defenders got trucked by Masoli, who has a YouTube library of steamrolling runs. It's fitting that Oregon clinched a Rose Bowl berth Dec. 3 when Masoli trucked Mitchell on a fourth-and-3 play, before running out the clock in the Civil War.
"That's how I've grown up, been doing it since I was a little kid, playing like that in Pop Warner," Masoli said. "It's something I've never lost."
Oregon fans haven't forgotten Masoli's fourth-and-3 run through Mitchell and past the first-down marker.
"That's a big one," he said. "A lot of fans, a lot of people, always come up to me and talk to me about that."
Masoli's teammates are used to seeing the junior quarterback flatten defenders, but his style of play rubs off on them.
"It gets the team juiced," James said. "It gets everyone going. When the quarterback runs a guy over, everything just goes [crazy] on the sideline."
Masoli on Friday faces an Ohio State defense known for its physical play and sound tackling. Safety Kurt Coleman, who likely will encounter Masoli in the open field, is as fundamentally sound as they come.
But as Masoli's foes have found, it usually takes a group effort to bring down the powerful Ducks quarterback.
"Knowing that when Jeremiah runs, he's not looking to go down or run out of bounds, he's looking to run over you," Oregon wide receiver D.J. Davis said. "It's a good thing. He sometimes gives us a hard time about why we get tackled by one person. But he's a big boy, he's my quarterback, and I love him to death."