Southern Miss coach Larry Fedora still gets fired up when he talks about the blocked extra point against East Carolina that eventually led to his team losing the Conference USA East title.
That extra point would have given the Golden Eagles a one-point lead in the fourth quarter. Instead, the lead swung the other way and East Carolina walked off with a 25-20 win and its second consecutive division title.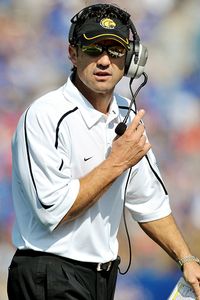 John Rieger-US PRESSWIRE
Southern Miss coach Larry Fedora will be looking to make improvements on special teams.
"At some point, coming close has got to leave such a bitter taste in your mouth that you're willing to do something extra, something that you've never done before to get something that you've never had," Fedora said.
The Golden Eagles open spring football today and kicking, among other issues, will be the focal point of the next 14 practices and the spring game. Southern Miss missed 10 extra points last season and six field goals. The team couldn't find any consistency from any distance with either Justin Estes or Daniel Hrapmann.
The first half of the season wasn't bad, but then the kicking game cost the Golden Eagles games late. Against Houston, Southern Miss had two extra points blocked and ended up losing 50-43. In the bowl game against Middle Tennessee, Southern Miss tried two-point conversions after each of its four touchdowns.
"We got dramatic improvements in our special teams, but in the kicking game itself we were terrible," Fedora said. "We want to make sure that they come out of spring understanding the importance of our special teams play. We've got to make some dramatic improvements on our extra point and field goal units."
The kicking game is just one of many points of interest this spring. The Golden Eagles have to replace four offensive linemen and have to find a new feature back after losing their top two rushers from a year ago in Damion Fletcher and Tory Harrison. Fedora said V.J. Floyd would be the top back heading into today's practices, but maintained that's its an open competition. He's eager to see how Desmond Johnson, who rushed for 72 yards and a score last year, Tracy Lampley, who had 122 yards and a score last season, and Kendrick Hardy perform this spring.
"If we have one guy that stands out way ahead of the rest, he'll be the guy," Fedora said. "If we've got two guys then it will be two guys. And I'll be honest with you, I don't think you can make it through a season with just one anymore. So, we know we're going to need some depth there and we'll look forward to that competition this spring."
At quarterback, Austin Davis, who started the 2009 season before suffering a season-ending foot injury, will throw, but not in any situations where his foot could be injured. Martevious Young, who started the final eight games of the season, and Chris Campbell will be the main competitors at quarterback. Fedora said he's not ready to say whether Davis or Young will be the starter in the fall, but the spring work will be important.
"I always like to say that a guy doesn't lose his position because of an injury, but with the extra reps that guys are getting, if they come through and they get better, when the time comes, they'll be the guy," Fedora said.
While filling holes will be key this spring, Southern Miss also will be working on attitude. Fedora thinks he has a team that can compete for both the Conference USA East title and the overall conference title, but he wants to see that drive from his team and it starts when the players hit the field today.
"I think we're really close, I really do," Fedora said. "We've got to stay healthy. That's key. We lost some key starters last year that hurt us, even though the other guys stepped up and played well, it still wasn't what it should have been. So, I think we're real close, but it's time to quit talking about it and it's time to get over that hump now."