LARAMIE, Wyo. -- For the past year, TCU coach Gary Patterson has been wearing the championship ring his team won by beating Boise State in the Poinsettia Bowl last season.
Now, he can replace that ring with a Mountain West Conference championship ring.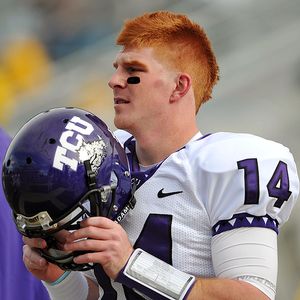 AP Photo/Andy Carpenean
TCU quarterback Andy Dalton shaved his hair into a Mohawk to celebrate starting the season 10-0.
TCU earned a share of the conference title Saturday with a 45-10 win over Wyoming. It was the Horned Frogs 11th consecutive win, making them 11-0 for the first time since 1938, the last time the Horned Frogs won the national championship.
"I think there's like six or eight [members] of that football team alive and I told [our team] that 71 years, if we could win out and be undefeated, that would be 136 guys in 71 years that could say they were undefeated at TCU and had a chance to win a championship," Patterson said.
TCU could win the title outright with a win over New Mexico next week.
TCU won the conference title in 2005, but Patterson said he doesn't wear the ring because it's a little too gaudy. But he's shown it to players many times and made it available for them to use as motivation as they've pushed through what is shaping up to be on the greatest season in school history.
The Horned Frogs final game will determine where they fall in the BCS bowl picture. If TCU wins out, it's definitely playing in a BCS bowl, but whether that bowl is the national championship game remains to be seen.
Patterson and his team hasn't talked about a national championship specifically and has never wavered from a goal pyramid that hangs in the team meeting room. They chart each challenge at the beginning of the season, road games, home games, nonconference, etc., and after conquering each challenge they cover it in purple. Saturday's win was the final road obstacle of the season. Next week's game against New Mexico will put the Horned Frogs at the top of the pyramid where both a BCS bowl game and a national championship sit.
Wyoming is the only mutual opponent TCU shares with Texas, the team many think will get into the national championship over TCU. Texas beat Wyoming 41-10. But Patterson, as he's said all along, won't campaign for his spot in the national title game. He's hoping the results will speak for themselves. In the past five games, TCU has outscored its opponents 278- 63 and it has allowed teams to score more than 14 points just three times all season.
"I watched people through the years go jump out and I've watched the different ways people have done it to try and get recognition to play in a national championship," Patterson said. "I've never ever seen it work where more than half of the people weren't disappointed in their actions when they went out and started honking their own horn. So, I still got to be able to sleep at night and that's why I'm going to be the way I am."
Right now, Patterson and his team are trying to have fun with the experience. TCU quarterback Andy Dalton made a bet with his teammates during the summer if the team won its first 10 games he'd shave his hair into a Mohawk. His teammates took it one step further and shaved "TCU" into the side of his head.
Patterson said he often looks at the photo of the 1938 team and thinks it's surreal that his 2009 team could have the same fortune.
"It's like Santa Claus, you know he's out there, but you never ever saw him," Patterson said of a BCS bowl berth. "For me to have an opportunity to know that at this point in time that we'd get a chance to play in a BCS game, that they would just be mentioning TCU playing for a national championship, I think is already a victory."