Nobody has uttered one bad word about first-year Miami offensive coordinator Mark Whipple.
Since arriving in Coral Gables this past winter, he's been inundated with praise, hailed as one of the best hires of the off-season, and the difference in Miami's exciting offensive progress.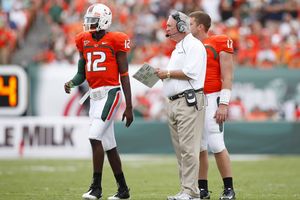 Joe Robbins/Getty Images
Miami offensive coordinator Mark Whipple has quarterback Jacory Harris taking more risks this year.
So it's no surprise Miami coach Randy Shannon isn't going to be the one to start questioning Whipple's tactics now – and either should you. Whipple's reputation precedes him. He's a smart coach with a wealth of knowledge about the game -- far more than you or I could ever hope to know. But he's also proven this year he's a risk taker, gambling on one deep downfield pass after another.
That's because opposing defense haven't left him much choice.
In the first half of the season, Whipple's game plan was new, it was fresh, and quarterback Jacory Harris flourished in it. Now, opponents have started to figure out not only the offense, but Harris' main weakness -- throwing vertically downfield.
Harris enters Saturday's game against Duke having thrown 16 interceptions this year, including nine in the past four games. Harris has acknowledged that he's taking more risks this year, but is that because he's being asked to? I asked Shannon on Wednesday's ACC teleconference if there was anything the Canes could do with their playcalling to make Harris more comfortable, and Shannon didn't hesitate to say "no."
"We're not going to ever criticize our playcalling, whatever we do at the University of Miami," Shannon said. "I have total confidence in both coordinators of calling the defense, and calling the offense and the players executing what we're doing offensively and defensively."
The problem is Harris hasn't been executing as well lately. He's a poised, mature sophomore quarterback who at many times has played beyond his age this year, and he was the main reason they were ranked No. 10 in the country at one point. I don't doubt that he'll rebound from this turnover slump like he has from game to game and even half to half. He's a winner. He's a clutch player. But is it possible that Harris doesn't have enough zip on the ball to constantly throw it deep, that he might be better and more accurate in executing the underneath passes?
What if, though, opposing defenses have figured this out and have started to crowd those underneath routes, daring Harris to throw it deep? That makes it more tempting for Whipple to call the downfield pass, since the defenses aren't really honoring it. Problem is, it's backfiring, and against North Carolina, it was exposed. Plus, odds are defensive coordinators don't fear Harris running the ball. He'll take a sack, or throw the ball to the fans, or run out of bounds before he scrambles and advances downfield. He doesn't bring the added dimension of a running quarterback like a Christian Ponder or Tyrod Taylor.
Whipple and Harris were both unavailable to comment.
Shannon has his own theories.
"They're just growing pains," Shannon said. "You can't blame everything on the quarterback all the time, but usually when you have an interception, it is the quarterback. Sometimes it's the receiver with the wrong route, and things like that happen. As an offense, we know we've got to get better, we've got to make sure everyone is in sync and everyone is doing all the things to get us going. It's a phase, he's young … he'll weather through the storm. He had a great day of practice this morning, phenomenal. You could see the sense of urgency with him and also the things he wants to get accomplished and help the guys on this football team understand that he'll be a guy who's going to be there in the crunches again."
Of course he will.
That's because Harris hasn't changed. The defenses he's going against have.