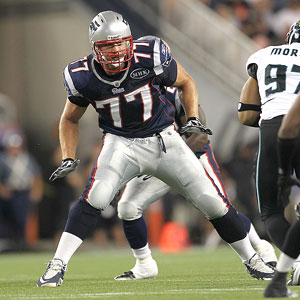 Jim Rogash/Getty Images
Nate Solder gets a taste of NFL action.FOXBOROUGH, Mass. -- One of the suggestions as to why the Patriots might have played it safe and kept quarterback Tom Brady off the field in the team's exhibition opener Thursday night against the Jacksonville Jaguars was an unproven rookie left tackle anchoring the second-unit offensive line that started for New England.
It's safe to say that first-round pick Nate Solder diminished any such fears with his play.
Solder, the 17th overall pick in April's draft, who inked his rookie deal just a week before Thursday's preseason opener, played the entire first half and kept Brian Hoyer's jersey clean (no sacks in 21 first-half passing attempts).
"I did some good things tonight, but you always have things to work on," said Solder. "Obviously, I have lot to learn and a long ways to go."
Solder appeared to do more than hold his own against the Jaguars, using his 6-foot-8 frame to neutralize Jacksonville's front line. But when a reporter asked if he felt like he, "imposed his will" on the opposition, Solder simply laughed and noted, "Shoot, I don't know."
Later he added: "It's a process. It's funny how much I have to learn, there's so many little things that a rookie has to learn... It's good to have an opportunity; you get more comfortable with every snap. I had a few tonight and that helped me get comfortable."
Even after the Patriots re-signed veteran left tackle Matt Light and with second-year tackle Sebastian Vollmer coming off a strong second season, it's clear Solder will soon be a key part of the Patriots' offensive line. For now, he's taking it one snap at a time.
"We're building, step by step," he said. "This is the first preseason game and we've all got a long way to go."
Said Patriots coach Bill Belichick: "I think Nate did some good things. Again, I think we've really got to look at the film and take a close look at everybody. I think he was handled himself well in the practice opportunities that he's had over the last week. It seemed like there were some things in the game that looked pretty good. There were a couple things that didn't look so good, but that's the way it is with all rookies; you build on the positives and correct the mistakes and hope that we can eliminate or minimize those mistakes the next time around."