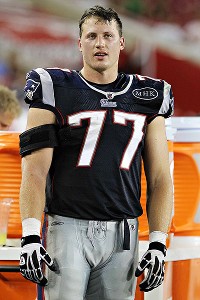 Kim Klement/US Presswire
Rookie Nate Solder on the sideline.FOXBOROUGH, Mass. -- On the night the New England Patriots drafted Nate Solder in April, coach Bill Belichick said with some certainty that the first-round pick would stay and develop at his familiar left tackle position. But we all know how much the Patriots coach likes versatility.
So while Belichick and the team still envision Solder as the future successor to Matt Light in protecting the blind side of quarterback Tom Brady, it's always possible that, in his rookie season, Solder could be thrust into the offensive line at another spot due to injury. With that in mind, Solder started Thursday's exhibition finale against the New York Giants at the more unfamiliar right tackle spot before flipping back to the left side with the second unit later in the game.
"I just keep saying it, wherever they need me, I'm going to be there," said Solder. "It's not a matter of where I'm most comfortable, it's a matter of what the team needs."
On Thursday night, the Patriots needed reps from Solder (starting right tackle Sebastian Vollmer wasn't dressed) and he was more than happy to oblige. The 6-foot-8, 320-pound behemoth enjoyed extensive playing time and said a heavy preseason workload was exactly what he needed.
"I got a lot of reps this whole preseason and I'm sure glad of it, because I needed them," said Solder, the 17th overall pick out of Colorado. "A rookie guy coming in, I have a lot to learn -- and I still have a lot to learn. I'm thankful for all the reps."
He's not quite as thankful for the buzz cut he's sporting these days. As is tradition, veteran players busted out their clippers Tuesday afternoon and administered less-than-flattering hairstyles to the team's rookies before the annual charity Kickoff Gala.
Poor Solder, sporting a baseball cap for much of the evening to hide his new 'do as he interacted with fans, got dragged up on stage to reveal a cut with all the hair missing on top (but still some on the sides). Like most of the first-year players, Solder buzzed the rest of his locks to limit the embarrassment after the event.
It's safe to say he's a lot more comfortable on the right side of the line than walking around with a bad haircut.
Update: During Friday's conference call with the media, Belichick said, "If [Solder] is our third tackle, our swing tackle with [Matt] Light and [Sebastian] Vollmer, then [playing both sides is] what he's going to have to do. But I thought he did some good things [vs. the Giants]. I thought his run blocking was good. I thought his pass blocking was good. He had a couple plays that, like everybody, could have been a little better. But the kid's learned a lot. I think he's had a lot thrown at him in the last month. I think overall he's handled it very well, very maturely. His techniques improved. He's worked hard. He's a tough kid. This is part of the experience, playing on the other side [of the line] and then actually coming back to the left side in the second half. He got good work on both sides of the ball. I think all those snaps in the long run are just going to help.