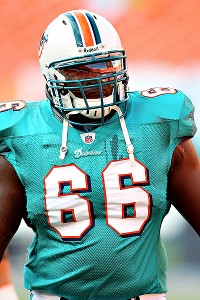 Scott Cunningham/Getty Images
Offensive lineman Donald Thomas with the Miami Dolphins.A quick introduction to offensive lineman Donald Thomas, signed by the Patriots on Wednesday to add depth on the interior of the line with Dan Koppen sidelined with a broken left ankle:
Vitals: 6-foot-4, 310 lbs.
College: University of Connecticut
Draft: Sixth round (195th overall) of 2008 NFL Draft.
NFL bio: Thomas is a veteran of three NFL seasons with the Miami Dolphins (2008-2009) and the Detroit Lions (2010). He originally entered the NFL as a sixth-round draft pick out of Connecticut in 2008. After starting at right guard in the first game of the year as a rookie, he was forced to finish the season on injured reserve due to a foot injury suffered in that game. Thomas started 12 of 16 games for the Dolphins at right guard in 2009. He was released by Miami prior to the start of the 2010 season and signed with Detroit on Nov. 23, 2010, but was inactive for the final six games of the season. Thomas was released by Detroit on Sept. 3, 2011.
The scouting report: Thomas, a native of New Haven, Conn., will add NFL-experienced depth on the interior of the line. According to stats logged by Pro Football Focus, Thomas appeared on 81.3 percent of Miami's total snaps in 2009 (933 snaps overall). He graded out as league average in their numbers, often fluctuating in performance week to week. Based on PFF stats that season, he allowed 10 quarterback pressures, eight hits, and five sacks. He played a reserve role over the final four weeks of the season after starting the first 12 games. He graded well in both games against New England that year, though he lost his starting job and played limited reps during a Week 13 game in Miami.
Coach's take: "He was at Miami, looked like he was going to earn a starting job and got injured," Belichick said at Wednesday's press conference. "He played a decent amount with [Miami], then was at Detroit last year at the end of the season. We played against him in the preseason [with the Lions], then worked him out here last week. He's strong, a good physical player. He played inside, but he also has experience playing tackle. We'll work with him and see how it goes."