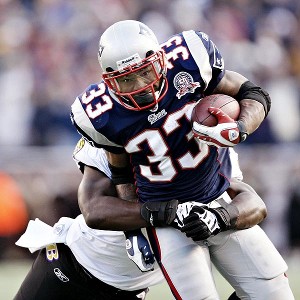 AP Photo/Winslow Townson
Patriots running back Kevin Faulk is working his way back to game activity.The Patriots' patience with Kevin Faulk, Ron Brace, and Brandon Deaderick may soon pay dividends writes Chris Forsberg:
On the day of the NFL trade deadline, the New England Patriots added three potential starters to the practice field. The cost? Nothing but patience.

Three thousand miles away, the Oakland Raiders gave up a small ransom (potentially two first-round picks) to land holdout quarterback Carson Palmer, a move that highlighted the smattering of deadline activity.

Patriots personnel director Nick Caserio had noted Monday that his team would be content to move forward with the roster it had. Sure enough, New England's roster juggling Tuesday was limited to re-signing a depth cornerback (Phillip Adams) and starting the clock on three players on the reserve/physically unable to perform list.

Let's remember that running back Kevin Faulk and defensive linemen Ron Brace and Brandon Deaderick were all starters at one point for last season's 14-2 team. Each must prove he is healthy enough to return to action, then carve out a role on this season's squad, which has improved depth at both positions.
Hop HERE to read the full story.
[Your turn: Which PUP player will have the biggest impact on the team moving forward? Will Faulk's veteran experience mean more than Brace and Deaderick's depth on the defensive line? Sound off in the comments.]