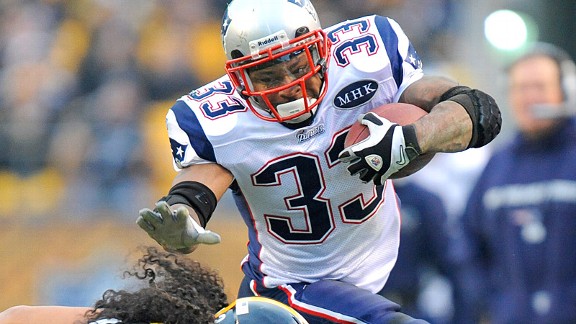 AP Photo/Don Wright
Kevin Faulk got thrust right back into the fire against the Steelers.PITTSBURGH -- Back in game action for the first time in 13 months Sunday against the Steelers, Patriots running back Kevin Faulk seemingly played with less rust than some of his teammates who had endured a mere 14-day break over the bye.
Faulk caught five passes for 20 yards through the air, while adding six carries for a team-high 32 yards on the ground. It was all overshadowed by the outcome -- a 25-17 loss -- at Heinz Field.
"At the beginning of the game, it's a great feeling [to be back out there]," said Faulk. "But once you get going in the game, you're doing your job, and not worrying about it being your first game back or whatever. You're just trying to win a football game. Obviously, they made more plays than us to win the football game.
"I'm just trying to help my team, whatever they ask me to do. I didn't know the role at the beginning of the week, but at the same time, you just do your job and your role will define itself later."
Faulk tore the ACL in his right knee during Week 2 of the 2010 season and missed the rest of the year. He started the 2011 campaign on the reserve/physically-unable-to-perform list, sitting out the first six games before returning to practice on Oct. 17.
Faulk was officially added to the active 53-man roster Saturday and, one day later, he was doing typical Faulk-like things again, like picking up blitzes, running routes in the flat, and hunting for yards off inside draws. Faulk, who wore a barely-noticeable brace, also showed the ability to still get outside and turn the corner, nearly scoring on a short run in the second quarter on an outside run (he got pushed out at the 2 and, on the next play, Deion Branch caught a touchdown pass from quarterback Tom Brady for the team's first score).
Not all went perfectly for Faulk -- not only with the outcome, but his own play.
"I don't know how closely you were watching, but I had a couple mistakes," said Faulk. "I missed a blitz pickup. At the same time, winning the game was the most important thing for me. This might have been my first football game in 13 months, but winning the game was most important and we didn't do that."
Veteran guard Brian Waters, who spent 11 season with the Chiefs before being thrust into the fire with the Patriots right before the start of the 2011 campaign, said all Faulk's experience aided his ability to jump back in.
"Since he's been back at work, you can tell this guy's been here and been in the system," said Waters. "He knows exactly what we're doing. It was great being out there and playing with him."
Echoed Brady: "It's great. He's such a spark plug for our offense. He does so many things well. For a guy who hadn't played football in a year, it certainly didn't look like it. He played well, played hard, and made big plays. I'm sure he's going to be sore tomorrow, he took some big hits. But it's great to have him back."