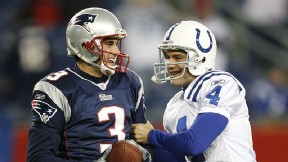 Jim Rogash/Getty Images
Old friend Adam Vinatieri greets Patriots kicker Stephen Gostkowski.Former Patriots kicker Adam Vinatieri is suffering through an 0-11 season, but he's trying to stay positive, which is the way he remembers his time in Foxborough:
Vinatieri laughed when asked if he still has a little Patriots red, white and blue in his blood.

"Listen, the 10 great years in New England will be a very big part in my life forever, until the day I die. I have three beautiful [Super Bowl] rings and a lot of great memories. Even though my loyalty is to my team now, I will always have a special place in my heart for the New England Patriots and that franchise, [Owner] Mr. [Robert] Kraft and his family. That goes without saying. Ten years down the road, when I'm retired, I'll be looking forward to the [Super Bowl] reunions."

Vinatieri, who added a fourth Super Bowl ring with the Colts, hasn't spoken much with Stephen Gostkowski, who has ably replaced him in New England over the past six years. The two have talked before games between the Patriots and Colts, and Vinatieri said he's impressed with what he's seen.

"You couldn't have asked for a better kicker to come in and do what he's done," Vinatieri said. "He has a big leg and he's a very solid guy, especially last year when he went through the injury and bounced back. I have all the respect in the world for him."
Hop HERE to read the full story.