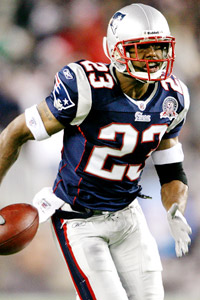 Elsa/Getty Images
Leigh Bodden said he's ready despite a thumb injury.FOXBOROUGH, Mass. -- For three weeks, veteran cornerback Leigh Bodden kept a low profile around reporters. After injuring his right thumb in the second preseason game at Tampa Bay, he didn't play again, and only returned to practice this week.
Bodden answered questions from reporters Friday for the first time since the injury, wearing a white protective cast over his right thumb that extended to his wrist.
"I can do everything a football player needs to do to get ready for a football game," Bodden said when asked about how the injury affected his conditioning.
Bodden, the team's starter on the right side, got off to a strong start in training camp as he returned from a torn rotator cuff that sidelined him all of 2010. He was consistently around the ball and looked like he was returning to 2009-like form when he led the team with 17 passes defended.
How much did the injury set him back?
"Things like that happen, but all I can do is look forward and look to do what I have to do when I get on the field," he answered. "When I get on the field, I plan to be the player I am."
If Bodden returns to his 2009 form, the Patriots have the potential for one of the NFL's better 1-2 combinations with Bodden on the right side and budding star Devin McCourty (5-10, 193) on the left.
Until this year, the 6-foot-1, 193-pound Bodden stood out among his fellow cornerbacks as the biggest player of the group. But that has changed with the additions of rookie Ras-I Dowling (6-1, 198) and fourth-year player Antwaun Molden (6-1, 198).
"I guess that's what the coaches want -- big guys, physical guys," Bodden said. "Everybody's talented, everybody's talented in their own ways. We bring a lot to the table and we just have to continue to progress and put it out on the field Monday night."