Giants special teams coach Tom Quinn knows his guys are in for a big test on Sunday, calling the 49ers' special teams unit the best in the NFL.
"They're very, very solid," Quinn said on Thursday. "Exceptional punter, exceptional kicker, great returner. They are very well-rounded and very well-coached."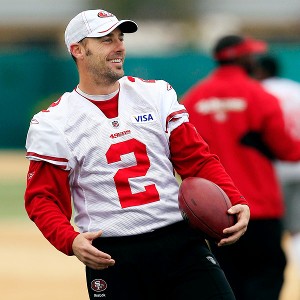 AP Photo/Jeff Chiu
David Akers
Placekicker David Akers connected on a league-best 44 field goals (out of 52 attempts) during the regular season. Akers missed just once from inside 40 yards, and made seven of nine from 50-plus yards.
Punter Andy Lee led the NFL in both average (50.9) and net (44.6) yards per punt.
The Giants may catch a break, though. Talented return man Ted Ginn missed practice for the second straight day on Thursday, after sustaining a knee injury against the Saints last weekend.
But Quinn said Ginn's backup will also pose a threat. "They got another guy. It is [Kyle] Williams, he'll probably be the guy. He's got some good returns on tape, punt returns and kickoff returns. We're preparing for both."
Ginn was third in the NFL in average yards per kickoff return this season (27.6), and fourth in average yards per punt return (12.3), scoring a touchdown on each.
"He's a great player, but they've got other good players," Quinn said. "They're so well-rounded, they block well, so you can put [in] another returner that's got good speed, and good running skills."