The Giants may be viewed as favorites in Super Bowl XLVI by some -- just not by coach Tom Coughlin.
"It's still us against the world. That's the way we play it, period. We're still the underdogs, and we still have a lot to prove," Coughlin said Thursday. "As I've said, 'Talk is cheap. Play the game.'"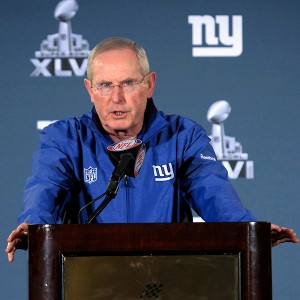 Kirby Lee/Image of Sport/US Presswire
Tom Coughlin: "It's still us against the world."
• Defensive end Osi Umenyiora was fined $20,000 by the NFL for failing to show up for his scheduled media availability on Wednesday. Umenyiora issued a statement saying it was a misunderstanding, and said it won't happen again
"We weren't pleased with that," Coughlin said. "But Osi will participate and be there [Thursday]."
• Coughlin said quarterback Eli Manning has a tradition of meeting with his wide receivers after Friday practices and going over film. He also goes over protections with his running backs and tight ends earlier in the week.
• Coughlin said he and his son-in-a-law get along just fine -- and Pro Bowl guard Chris Snee doesn't get any special treatment.
"He wouldn't want it any other way, and that's never been an issue and don't even think twice about it," Coughlin said. "We've been able to keep business business and family family. and he does a great job of making sure of that."
• Shortly after Coughlin's presser ended, Cowboys edge rusher DeMarcus Ware appeared on SportsCenter and picked the Giants to win it all.
"I'm picking the better team," Ware said, noting how fierce the Giants' pass rush is.