EAST RUTHERFORD, N.J. -- The predictability of the New York Giants' offense may still be a problem.
Tampa Bay Buccaneers cornerback Vernon Hargreaves told Odell Beckham Jr. after Sunday's game that the Bucs knew what was coming. The Bucs won 25-23 and held Beckham to seven receptions for 90 yards.
"Yeah, they study film. I was talking to Hargreaves after the game. He was just like, 'We know a lot of what you're doing,'" said Beckham, who injured his finger trying to put a little something extra into a route in the second quarter.
"But it comes to the point where you have to trust it. We have to trust [quarterback Eli Manning] to make a throw like he did, not put anything extra on [the route] because if I didn't put something extra on it the timing probably would've been perfectly right. I didn't get my head around fast enough."
The Giants and coach Ben McAdoo have made a concerted effort this year to be more multiple. They were concerned last year about being in the same formation almost every play. Giants players admitted that opponents knew what was coming and that the offense was predictable.
That was the result of being in "11 personnel" (3 wide receivers, 1 running back, 1 tight end) on 92 percent of their plays last season. They've used "11 personnel" on 77 percent of plays this year, a significant decrease even if it's still the second-highest in the NFL, according to ESPN Stats & Information.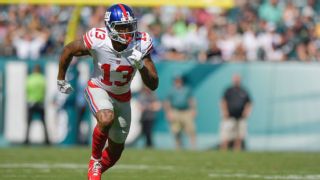 The results haven't been overly encouraging. The Giants struggled badly offensively in the first two games, and even after putting up big passing numbers the past two weeks (654 yards) they are averaging only 15.0 points per game through four weeks.
McAdoo's quick-hitting West Coast offense isn't producing ideal results, and now opposing defenses are telling the Giants that they're predictable.
Beckham didn't appear that concerned.
"It's our offense," he said. "We went 11-5 last year, and we were running the same plays. Is it really this, or are we just not executing right? I don't think we're executing the way that we can at a high level.
"It wasn't a problem last year when we were winning games. It's just a matter of execution, really."
The Giants' offense didn't exactly light the world on fire last year, either. The Giants were 26th in points scored, at 19.4 per game. They did have more success in McAdoo's offense when he was offensive coordinator.
They were sixth in points scored in 2015 (26.3) and tied for 12th in 2014 (23.8).
The Giants (0-4) haven't topped 24 points in a game this year.
McAdoo said earlier this week that he wants to simplify schemes for his players when they face the Los Angeles Chargers on Sunday. He believes that will allow them to play freer and faster.
"Be better than them," Beckham said. "You know I'm running a slant, beat me on a slant. Do it. I don't see you doing it. That's just what it has to be. That's the mentality you have to have. It has to be, 'OK, cool. You know I'm running a slant. I'm going to beat you inside and I'm going to catch this ball and get 7 yards.'
"Whatever you're going to get. It just has to be that mentality. You have to have it. Now is the time you have to have it. It's not that we're pressing, but now is the time."
Beckham had been getting closer to 100 percent after an ankle injury that kept him out of the opener and limited him in Week 2. But Sunday in Tampa he injured his finger and tweaked the ankle on a fourth-quarter catch. He says he's fine and that the ankle is the "same-ish."
Beckham was a limited participant in Wednesday's practice.
"Football. Banged up. We had a tough game. We had a tough loss," Beckham said. "Got some days until Sunday to recover and get right."
It's not even the finger or ankle that has been bothering him most.
"Losing record, 0-4," he said. "You can fight through all the pain in the world, but losing games is not fun."