Sunday's wild game was the Eagles' first visit to New Meadowlands Stadium, and it reinforced a theme in this NFC East rivalry:
No matter where they play, the Eagles enjoy visiting the Giants and stealing games late.
Oct. 19, 1978
Miracle at the Meadowlands
The Giants led 17-12 and offensive coordinator Bob Gibson inexplicably called for a run play -- with 31 seconds left and 30 ticks on the play clock -- instead of a kneel-down. Quarterback Joe Pisarcik tried to hand off to Larry Csonka but fumbled the exchange. The ball bounced to defensive back Herm Edwards, who ran into the end zone for the game-winning score.
Nov. 20, 1988
Eagles return blocked kick for TD, win in OT
After the Eagles scored a touchdown midway through the fourth quarter to tie the game and force overtime, they lined up in OT for a potential game-winning field goal from 30 yards out. The Giants blocked Luis Zendejas' kick, which went right into the hands of the Eagles' Clyde Simmons, who ran the ball in for a score to win the game.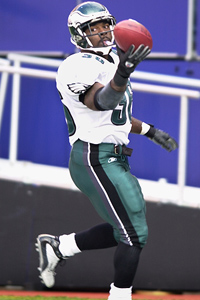 AP Photo/Chris Gardner
Brian Westbrook scores on the 84-yard punt return that sunk the Giants on Oct. 19, 2003.
Dec. 3, 1989
Cunningham's 91-yard punt changes game
The Eagles and Giants were tied at 17 in the fourth quarter when Philly had a third-and-long at its own 2-yard line. So what did the Eagles do? They had Randall Cunningham punt the ball -- and it went 91 yards, totally changing the field position in the game. On the Giants' ensuing possession, Phil Simms was sacked by Mike Golic and fumbled the ball. That led to an Eagles touchdown that proved to be the game winner.
Oct. 19, 2003 | Recap
Westbrook's punt return wins it
With 1:16 left, Brian Westbrook took a punt back 84 yards to lift the Eagles to a 14-10 win at the Giants. The Eagles hadn't scored or mustered much offense since Westbrook had a TD run in the first quarter.
Dec. 19, 2010 | Recap
Eagles score 28 unanswered points to win
The Eagles make themselves at home in their first game at New Meadowlands Stadium, this time scoring a franchise-record 28 points in the fourth quarter. All 28 came within the final 7:28, bookended by a 65-yard TD reception by Brent Celek and a 65-yard punt return by DeSean Jackson on the last play of regulation.