CINCINNATI -- Rex Ryan, in halftime quotes distributed by the Jets, commented on Tim Tebow (who else?) and the biggest play in the half.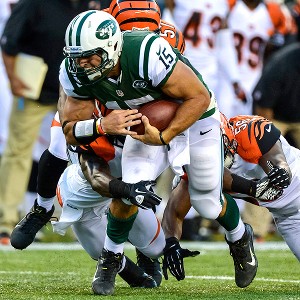 MSA/Icon SMI
Tim Tebow picked up 14 yards on a second-quarter scramble. He finished with 34 yards on four carries.
On the blocked punt during the first half that resulted in a Bengals touchdown: "I don't know what it was, but it looked like they had two free guys running in there, which obviously is a huge mistake and I set it up and counted it off of our line. (We) had to punt it to them because they had no timeouts and into this wind here, you get a good punt out of it. Clearly, you know they're going to rush and we have to do a better job, obviously."
On Tebow's performance the first half: "I liked the poise he showed. Obviously, (he) made some big runs and that's what we say he can do. If you want to come after him, you better get to him. In time, he'll kill you running and that's what he did. I think we did some good things and I saw some guys finishing some blocks down the field. Overall, it wasn't too bad but obviously, you can't have a blocked punt, it's ridiculous."