Recap | Box score | Jets Center
EAST RUTHERFORD, N.J. -- For Randy Moss, his freedom from Revis Island did not mean the Patriots superstar could roam free in the Jets' secondary. Instead, it was almost like Moss never left the island's uncomfortable confines.
Despite catching a 34-yard touchdown pass against Jets corner Darrelle Revis and not having to line up against the Pro Bowler in the second half due to Revis' hamstring injury, Moss had little effect in the Jets' 28-14 win Sunday afternoon at New Meadowlands Stadium.
Moss had just two catches for 38 yards, all of which came in the first half, and couldn't make the big plays needed when lined up against Antonio Cromartie in the second half.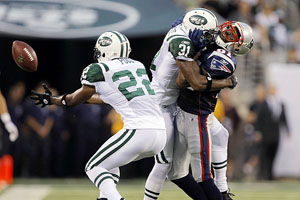 John Munson/US Presswire
This Antonio Cromartie hit on Randy Moss led to a Brodney Pool interception.
"It was very disappointing from my perspective, I gotta do a little bit better," Moss said. "The team relied on me to throw me the ball and I just really didn't make the plays in the second half, so it's just something that really hurts."
Running routes against Revis in the first half, Moss managed to best his rival on a fade to the back of the end zone with a beautiful one-handed grab that gave the Patriots a 14-7 lead with 53 seconds left in the second quarter. While the beautiful catch made many jaws drop, Moss was stoic about it, saying it was just everyday work and he didn't care that he beat Revis, who has called Moss a "slouch" in the past.
"This game, a lot of people put this game hype on me and Revis," Moss said. "And there's 10 other guys out there with me, and there's 10 other guys out there with him. In order for me to be successful, in order for Revis to be successful, all 11 guys have to be working together. Like I said, we didn't work together in critical situations."
While Revis left the game after that play with a tight, possibly pulled, left hamstring, Moss couldn't insert himself into the action in the second half. Moss and quarterback Tom Brady both said the Jets did not change anything in terms of their coverage with Revis sidelined, but the Jets somehow managed to neutralize Moss with the taller and heavier Cromartie.
"The biggest thing was going in, focusing and trying to do my job the best way I can," Cromartie said. "The guys in the secondary and the defense picked me up and made sure I did the right thing that I needed to do."
Moss was targeted four times in the second half, and on two of those occasions the Jets intercepted the ball. The first time, Brady overthrew a fade down the right sideline and Cromartie picked the ball off early in the third quarter. On the second pick, a tipped throw led to an interception by Brodney Pool to open up the fourth quarter. Just like most of the second half, Cromartie was right on top of Moss on that interception.
On this day, Cromartie -- not Revis -- seemed to be Moss' kryptonite. And that left Moss appearing to be stranded on an island -- albeit a different one -- once again.
"I got to just commend him," Moss said of Cromartie. "Revis, I guess was a little banged up, and Cromartie came in and held his own, held his ground. That's just something as a wide receiver, you go back to the drawing board, keep working. They had a good plan, they executed it right, they executed it better than we did and they won the game."