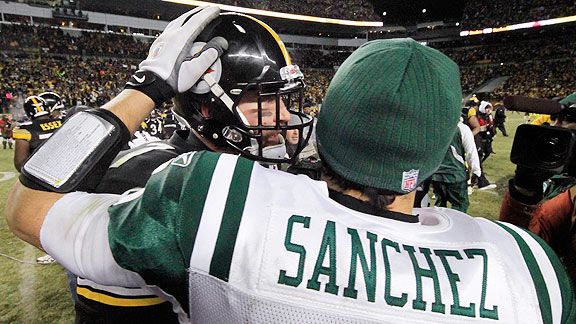 AP Photo/Gene J. Puskar
Ben Roethlisberger goes to his third Super Bowl while Mark Sanchez goes home.After the Steelers beat the Jets in the AFC Championship Game, Jets quarterback Mark Sanchez stood in a Heinz Field hallway, being interviewed by a Spanish-language broadcaster when Steelers quarterback Ben Roethlisberger walked out of his locker room and down the hall.
Roethlisberger saw Sanchez and, as he passed, leaned over and gave Sanchez a playful slap on the shoulder. The two embraced and spoke for a few seconds before Sanchez returned for his interview.
It was a tough night for Jets players. The locker room was quiet, and some players slipped in and out without wanting to talk to reporters.
Mike DeVito was somber. Asked about the trouble the team had stopping Steelers running back Rashard Mendenhall in the first half, DeVito said he thought he had a lot of trouble with his own matchup against Ramon Foster and Chris Kemoeatu.
"I need to learn and get better and these are the type of games you can't blow like that," DeVito said.
Center Nick Mangold said everyone in the locker room was feeling the loss acutely, and he described the feeling he had the moment Roethlisberger converted a third down on the final drive of the game, winning the ability to eat up the rest of the clock and keep the Jets offense off the field.
"Think about the worse thing that can happen to you, whatever that might be," Mangold said. "That's the feeling."