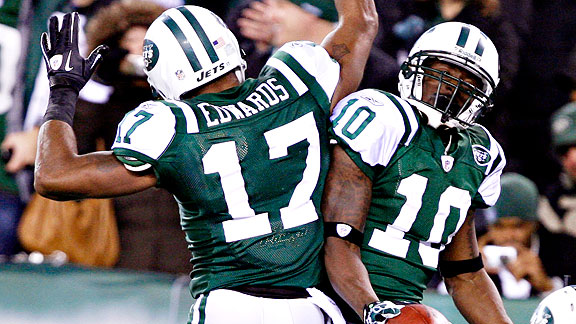 Aristide Economopoulos/US Presswire
The Jets would have to dig deep to keep both Braylon Edwards and Santonio Holmes.This is the seventh part in our daily, position-by-position breakdown of the Jets' roster. Tomorrow: Defensive tackle.
Focus: Wide receiver.
Depth chart: Braylon Edwards, Santonio Holmes, Jerricho Cotchery, Brad Smith, Patrick Turner, Logan Payne.
Expiring contracts: Edwards, Holmes, Smith.
Rear-view mirror: Edwards and Holmes didn't put up monster numbers, but you have to consider they played on a run-oriented team with a young quarterback. Between them, they caught 105 balls and averaged 15.7 yards per reception. Edwards was the team's most consistent receiver. He came to the Jets with a reputation for dropping passes, but he had only two drops, according to Stats, LLC. His YAC was a healthy 5.5 and he blocked like a madman, helping the perimeter running game. If there was a negative, it's that he was undisciplined at times -- seven penalties for 68 yards (including one on special teams), plus two declined. His drunken-driving arrest was the lowlight.
Holmes missed the first four games due to his drug suspension, but he had an unbelievable November, making the pivotal play in three straight victories. Projected over 16 games, his receiving yardage would've been at about 1,000. He brought a playmaking dimension to the offense, yet his YAC was an ordinary 4.4. He showed occasional lapses in concentration, dropping five passes -- including two potential game-changers. But his season will be remembered for his ability to perform in the clutch, highlighted by his acrobatic touchdown in the playoff win over the Patriots.
Cotchery accepted his demotion to No. 3 like a true professional, which didn't surprise anybody. In terms of production, it was a disappointing season. He failed to gain consistent separation against defenders (only 48 percent of the balls thrown to him were completed) and he dropped a team-high eight passes -- uncharacteristic for him. Smith was a non-factor as a receiver, making his mark as a kickoff returner and in the Wildcat.
Numbers game: Edwards became the first Jets receiver since Don Maynard and George Sauer in 1968 to average at least 17.1 yards per catch with at least 50 receptions. ... Holmes scored a touchdown in four of the last five games, including playoffs.
Crystal ball: The receiving corps could have an entirely different look in 2011. Holmes, Edwards and Smith are free agents, and it's unlikely that all three will return. League insiders say Holmes is the No. 1 priority. Why Holmes over Edwards? Scouts say Holmes is harder to defend because of his route running, quickness and separation skills. Edwards has an impressive skill set, too, but it's hard to imagine the Jets doling out two major deals at the same position. Smith probably will return as long as he's reasonable with his contract demands. Don't be surprised if the Jets fill a hole by taking a one-year flyer on Plaxico Burress or someone of his ilk, minus the prison record and gunshot wound.
Hot seat: Right now, it's impossible to say. Let's see who's seated when the music stops.
Positional rating (scale of 1 to 10): 9.0