A look at what's happening around the New York Jets:
1. Invisible D -- As I sat next to Jets CEO Christopher Johnson during his session with reporters the other day, the four words that jumped out to me -- his theme, if you will -- were these:
Are we getting better?
This, the new boss said, is how he will evaluate coach Todd Bowles and general manager Mike Maccagnan. For Bowles, that covers a lot of ground, but it starts with the play of the defense -- his defense. He was hired, in part, because of his acumen as a defensive coach. He did a very good job in 2015, as the Jets were a top-10 defense in most of the major categories. Since then, the unit has regressed. It couldn't stop the pass last year, and now it can't stop the run.
The Jets' rankings over the past 18 games:
Points allowed: 29th
Yards allowed: 20th
Rushing yards: 18th
Passing yards: 15th
The Jets have personnel deficiencies, especially at cornerback, but they also have five first-round picks on defense. Bowles needs to create an identity for the unit and squeeze improvement out of it or else Johnson won't have a hard time answering his question.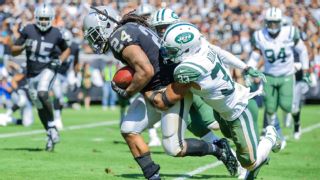 2. London calling? -- The Jets are being considered for one of the international games in London next season, ESPN.com has learned. This, of course, makes perfect sense now that owner Woody Johnson is a full-time London resident in his new job -- U.S. ambassador to the United Kingdom. The Jets made their London debut in 2015, and a good time was had by all -- except the Miami Dolphins, who lost the game and fired their coach. No word yet on whether next season's game would be a Jets "home" game. The league will play at least five games in London in 2018.
3. A fair-Lee rough start -- Dissecting Darron Lee's game has turned into a popular pastime. Let's be honest: The tape isn't pretty. Last week, he was either flattened, tossed aside or blown out of his gap assignment on at least three different running plays. The Jets downplayed Lee's struggles, but a couple of questions have emerged:
Is he too small to be an effective 3-4 inside linebacker? Lee is listed at 6-foot-1, 232 pounds, and he often finds himself matched against 300-pound guards. Lee, Ryan Shazier (Pittsburgh Steelers) and Mark Barron (Los Angeles Rams) are the only starting 3-4 inside 'backers at 232 pounds or lighter, according to ESPN Stats & Information. It's a small fraternity, no pun intended, for a reason.
Why don't they move Lee around the defense? That was the plan when they drafted him in the first round. At the time, Bowles said, "Schematically, he can be used quite a few ways." There was talk about using him as a linebacker/safety hybrid, the way Bowles deployed Deone Bucannon with the Arizona Cardinals. That hasn't materialized.
If the Jets drafted Lee to be exclusively a "box" linebacker, it was a questionable decision. In his final year at Ohio State, Lee played outside the box on 492 of 879 snaps, according to Pro Football Focus. Mostly he was in the slot, outside the tackles. They're asking him to do something he didn't do a lot of in college. Maybe he's just struggling through the transition. Or maybe he's a square peg in a round hole.
4. Rookies vs. veterans -- I thought it was really interesting last week that rookie wide receivers ArDarius Stewart and Chad Hansen played a combined 10 snaps after having bigger roles in Week 1. Clearly, the coaches preferred the established Jeremy Kerley over the two kids. This is something to watch as the season progresses.
Coaches want to win now. Personnel people want to see their draft picks on the field, especially in a rebuilding season. It's a delicate balance that, in some cases, can create friction in an organization.
On the flip side, Bowles got rookie running back Elijah McGuire involved in the offense last week, taking reps from Matt Forte and Bilal Powell. By November, I suspect you'll see a full-blown youth movement.
So far, the rookies have played a total of 333 snaps (offense and defense), per ESPN Stats. Only the New Orleans Saints, Indianapolis Colts and Cleveland Browns have more rookie snaps, per ESPN Stats.
5. Not giving up on Hack -- In his sit-down with reporters, Johnson was asked about the slow-developing Christian Hackenberg. Johnson didn't want to revisit the decision to draft the quarterback, preferring to stay in the present.
"I think that he has a lot of upside, and I hope to see it," Johnson said.
Translation: You'd better be right about him, Mike Maccagnan.
6. Better than Odell? -- One of the keys for the Jets this week is containing Dolphins wide receiver Jarvis Landry. No one knows him better than cornerback Morris Claiborne, who played with Landry at LSU in 2011. That year, the Tigers had another freshman receiver -- Odell Beckham Jr.
"Back then, I used to think [Landry] was better than Odell," Claiborne said.
That's quite a compliment. Claiborne was blown away by Landry's work ethic, recalling he was constantly on the Jugs passing machine. Said Claiborne: "He was destined."
7. Speaking of LSU -- Maybe you caught it on social media, but former Tigers star Jamal Adams made a brilliant play in Oakland. Pursuing from the back side, he ran nearly 40 yards, hurdled two players on the ground and chased down Marshawn Lynch near the goal line.
He certainly impressed the boss. Johnson said, "That goal line tackle was one of the great plays I can ever recall. I want to see more of that."
Check it out:

8. Next man up (and out?) -- The way things are going for the punt returners, I'm not sure if I'd want that job right now. Lucky Whitehead broke a foot and was released in the preseason. He was replaced by Kalif Raymond, who muffed three punts in the first two games and got cut. Last season's returner, Jalin Marshall, is serving a four-game suspension for a PED violation.
Who's next? Volunteers? Anyone?
Don't be surprised if it's Jeremy Kerley, who once held the NFL record for most fair catches in a season (36 in 2012).
9. Chilly response -- Bowles is a man of few words, but I still was surprised by his curt response when asked if the Jets had set up a free-agent visit with Jay Cutler in the offseason. (They did.)
"You would have to talk to upstairs for all that," he said, meaning the front office.
Let's just say Bowles wasn't all-in on the brief Cutler flirtation. Now his defense has to face the QB.
10. A stat that makes no sense -- The Jets have allowed a league-high 66 points. The last time they surrendered that many in the first two games was 2002 (75 points) -- the year of their last division title.