EAST RUTHERFORD, N.J. -- The New York Jets ruined everything. They read the script and put a match to it. They had the audacity to win two games in a row, and now they can forget about the No. 1 overall pick in next spring's draft. This wasn't the plan. They were supposed to stink like the Jersey swamps, but now they actually believe they're ... uh ... a good football team.
"Don't mark us off on your calendar as a win because, believe me, we're doing the same thing to you," cornerback Morris Claiborne said after Sunday, speaking to the rest of the NFL. "We're really working. We're not taking anything for granted. Don't come in and think you're going to just push us over."
Who are these guys?
The Jets improved to 2-2 overall and 2-0 against the state of Florida, needing 69-plus minutes to beat the Jacksonville Jaguars in overtime, 23-20, at MetLife Stadium. The Jets could've lost, but they didn't, destroying the narrative that was established in the preseason. With wins over the Jaguars and Miami Dolphins, a couple of mediocre teams, the Jets have veered off the road to Tanksville.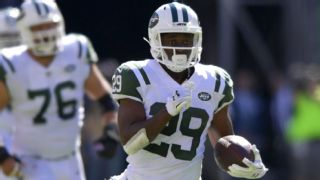 Put away those green Sam Darnold jerseys, people.
In nine of the past 10 drafts, the team with the No. 1 overall pick finished with two wins or fewer the previous season. The lone exception was the 2015 Tennessee Titans, who went 3-13 and wound up trading the pick to the Los Angeles Rams. They selected quarterback Jared Goff.
Unless they lose out, the Jets probably will have to employ a similar plan if they hope to find their quarterback of the future in the 2018 draft. We could know more next week, when they face the Cleveland Browns (0-4). Incredibly, the Jets could be 3-2. They should be 3-2.
"Cleveland has a good team even though they don't have a win yet -- and we don't need to be the first," nose tackle Steve McLendon said.
Are the Jets for real or is this just an early autumn tease? My advice: Try to enjoy it without letting your expectations get too high.
After an awful start, the defense is playing well -- only two touchdowns allowed in the past eight quarters, plus an overtime period -- but it still hasn't done it against a top quarterback. Jay Cutler is in semi-retirement and Blake Bortles is ... well, did you see some of this throws? Joe Namath, who was watching from a luxury suite, would've fared better than 15-for-35, 140 yards -- and he's 74 years old.
Offensively, the Jets have developed an identity that works for them: A high-percentage short-passing game complemented by capable running backs. They won't rush for 256 yards every week, but they're developing something with Bilal Powell, rookie Elijah McGuire and Matt Forte (injured). Powell and McGuire scored on 75- and 69-yard runs, respectively, the first time in team history it had two runs of 65 yards or more in the same game.
These are building blocks.
"We're still getting started, do you know what I mean?" quarterback Josh McCown said. "We've got a lot of new guys, so we're growing and getting better. So to leave this quarter at 2-2 is encouraging for us."
More than anything, the team is gaining confidence, a huge boost for Todd Bowles, the so-called Dead Coach Walking. A bad start could've been disastrous for Bowles, who was handed a roster in transition, but this small taste of success has provided a degree of validation. Low expectations seem to agree with his team.
"You try not to hear it ... but you hear it," Claiborne said of the dire forecasts. "Believe me, we feed off that. We take that on the field with us."
Tank that, naysayers.