The man carried East Coast boxing on his back for almost a decade, and four years after his death, his name is still the one summoned when a pundit or fight fan looks for a name that exemplifies unfathomable athletic will in the face of Sisyphean odds. And yet, there is a contingent of folks out and about who think Arturo Gatti, the "Human Highlight Reel" of boxing, a person who gave fans more entertainment value per outing than anyone outside of Mike Tyson in this era, doesn't deserve entry into the International Boxing Hall of Fame in Canastota, NY.
Thankfully, that moronic minority doesn't have a say beyond the odd website, so on Sunday, Gatti will be enshrined where he belongs, with the other special souls who gave, so literally, so much of themselves, for our entertainment.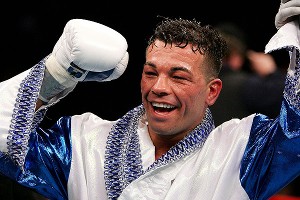 Al Bello/Getty Images
Arturo Gatti will be inducted into the International Boxing Hall of Fame on Sunday.
The fighter, born in Italy, raised in Canada, and linked always with Jersey, where he lived until he retired in 2007, tops the inductee list for the 24th annual induction ceremony. Sadly, he won't be present to luxuriate in the acclaim on Sunday; Gatti died on July 11, 2009, under murky circumstances. The hitter was a "Fight of the Year" perennial and mainstay on HBO, which knew he was a guaranteed drama-producer, win or lose.
Promoter Russell Peltz, a partner along with Main Events as Gatti's promoter, spoke to the people who don't think Arturo is Hall worthy.
"It's a no brainer, absolutely, that he belongs, because it's the Hall of Fame, not the Hall of Greatness," Peltz told me. "You cannot ask any more of athlete than to give you your money's worth and he went beyond that. He was in four Fights of the Year ['97, '98, 2002, 2003], that's enough."
Should be, for sure, no matter what some pesky Twitter gnats say...
"Those that say he doesn't belong there, they're haters," said Peltz, who was inducted into the Hall as a promoter in 2004. "And a lot of them are in boxing. There are all levels of ability in the Hall. I mean, I'm not as great a promoter as Mike Jacobs [who promoted Joe Louis and was inducted in 1990], but..."
Tears will be shed at Canastota when those at the Sunday ceremony ponder a man gone too soon, at age 37. But all in all, most memories will settle on all the times the man made your jaw drop, and scream an expletive in amazement.
"You go to a movie and it's a lousy movie, you go to a show and it's a lousy show, but you'd never got to a Gatti fight and it was a lousy fight," Peltz said in closing. "That's the ultimate compliment."