On Wednesday night, Joan Guzman tweeted at Showtime boxing boss Stephen Espinoza, "Joan Guzman vs [Adrien] broner please." Less than 24 hours later, the prospect of a scrap with young Broner wasn't just off the table, it fell off a cliff. Guzman weighed 148.2 pounds at the weigh-in for a junior welterweight scrap against Vicente Mosquera, set for Friday night in Kissimee, Fla.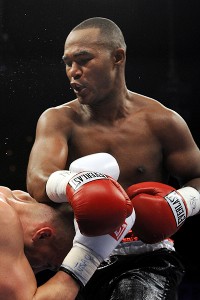 Gabriel Bouys/Getty Images
Joan Guzman missed weight again.That scrap was to be for the vacant WBA 140-pound interim title, but now, only Mosquera can win the strap; if the 37-year-old Guzman wins, he cannot lay claim to the title, per rules of the local jurisdiction.
This must have been a horrid flashback for Guzman (33-1-1; lost last fight against Khabib Allakhverdiev in November 2012), who pulled off massive scale fails in 2008, when his title fight with Nate Campbell was scrapped because he was 3 1/2 pounds heavy, and then in 2010, when he was nine pounds over the 135-pound max for a rematch with Ali Funeka. In his very next bout, nine months later, he was over-the-weight, against Jason Davis, by three pounds.
He told me that his fridge battles were over last year, and had been on target for weight in his past four scraps.
I texted his promoter, Henry Rivalta, to get more details and am awaiting a return text.
Formerly a Brooklyn resident, the Dominican-born boxer is (was?) blessed with a gift for pugilism. It's a shame Guzman continues to battle these issues.