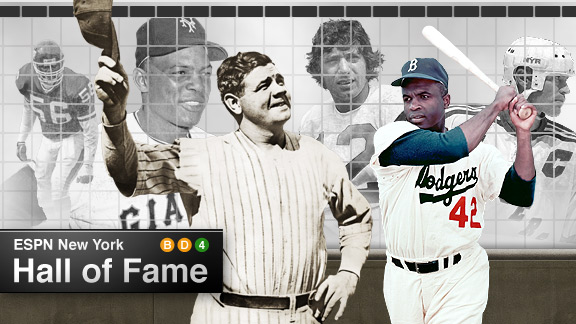 ESPN.com illustration
Vote: Pick the ESPN New York Hall of Fame class | Meet the candidates

In honor of ESPN New York's inaugural Hall of Fame ballot, here are my top five Nets:
1. Julius Erving: The Nets haven't won a championship since he left. That alone makes him No. 1 on our list. They acquired Erving on Aug. 1, 1973, and he proceeded to lead the franchise to its first ABA title in 1974 -- capturing both regular-season and playoff MVP honors. In 1976, "Dr. J" legitimized the dunk contest with his free throw-line slam and led the then-New York Nets to their second ABA title. His No. 32 jersey was eventually retired by the organization and currently hangs in the rafters. Erving played just three seasons in New York but he left a lasting legacy, averaging 28.2 points per game.
Focus on Sport/Getty Images
Julius Erving led the Nets to their only league championships, the 1974 and '76 ABA titles.
2. Jason Kidd: Kidd did it all for the Nets. He just didn't win a title, which is why we're putting him at No. 2. Kidd led the Nets to two NBA Finals appearances -- only to lose to Shaq's Lakers and Duncan's Spurs -- and was a five-time All-Star during his 6½-year tenure in New Jersey. One of the best pure passers in NBA history, the point guard's contributions to the franchise will never be forgotten. The Nets don't go from a 26-win team to a 52-win team in 2001-02 without him, that's for darn sure.
3. Rick Barry: The Hall of Fame forward played just two seasons for the Nets but put up big numbers, averaging 29.4 ppg in 1970-71 and 31.5 ppg in 1971-72. Barry was an All-Star both seasons. New York was bounced in the Eastern Division semifinals in 1971 before advancing to the 1972 finals and falling to the Indiana Pacers.
4. Buck Williams: Williams, who played eight seasons with New Jersey, is the franchise's all-time leader in 11 of 17 categories, including points, rebounds and games played. He also led the Nets to five playoff appearances (1982-86). His No. 52 was retired in 1999.
5. Drazen Petrovic: Deron Williams may take this spot one day, and perhaps Vince Carter was more deserving. But we honor Petrovic because we wonder what could've been. In two of his three seasons with the Nets, the Croatian marksman averaged more than 20 points per game and shot better than 44 percent from 3-point range. He was named to the All-NBA third team after the 1992-93 season. That summer, he was killed in a car accident in Germany at the age of 28. The Nets immortalized him prior to the start of the 1993-94 season when they raised his No. 3 to the rafters.