Starting today and continuing through Dec. 23, ESPNNewYork.com will run a series called "Christmas Countdown," examining a hot topic each day that surrounds the New Jersey Nets.
Today's Hot Topic: The team's dominant storyline
If there's anyone who can pull off a blockbuster trade for Orlando center Dwight Howard, it's Nets GM Billy King.
During his 12-year career as an executive, King has made 40 trades. He's dealt for Deron Williams. He's dealt away Allen Iverson. He's orchestrated four three-team trades and two four-team trades.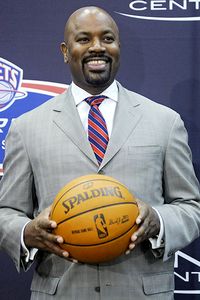 AP Photo/Bill Kostroun
Visions of a Dwight Howard trade are dancing in Billy King's head.
King has been there and done it all. He's not afraid to make a bold move, and he's certainly not afraid of failure.
Not all his moves have panned out. After all, despite having a franchise player in Iverson, King never was able to win an NBA championship. He tried and tried to piece together a perfect supporting cast around his superstar guard. It just never worked out. After King acquired Dikembe Mutombo in a blockbuster trade with Atlanta, the Sixers advanced to the Finals in 2001, but they ran into the Shaq and Kobe dynasty and were eliminated in five games.
That was as close as King has ever gotten to winning it all.
King has been quiet of late, trying to figure out how to land Howard in order to give his team arguably the most dominant center-point guard tandem in the entire league.
Last season, King struck out on Carmelo Anthony, then hit a home run by getting Williams. He's trying to hit a grand slam in 2011-12 by landing Howard.
In February, King said the Williams deal was "definitely the biggest trade I ever made."
His reasoning was simple. In Philadelphia, he already had Iverson. In New Jersey, he had no superstars. And now, not even two seasons into his tenure, he already has a chance to land two.
And with the Nets set to move to Brooklyn and the $1 billion Barclays Center in 2012-13, having two marquee attractions would go a long way toward drastically increasing the organization's chances of winning both on and off the court.
The Nets will have to sacrifice the likes of 23-year-old center Brook Lopez and a pair of future first-round draft picks to get Howard, but it's a sacrifice King is more than willing to make.
Two seasons ago, the Nets got off to an 0-18 start and became just the fifth team in NBA history to lose 70 or more games. Now, they're just a superstar away from becoming Eastern Conference playoff contenders with title aspirations.
If King's able to produce Howard, the new slogan in Brooklyn won't be "fuhgeddaboudit" anymore.
It'll be, "It's good to be king." Billy King.