Continuing through Dec. 23, ESPNNewYork.com will run a series called "Christmas Countdown," examining a hot topic each day that surrounds the New Jersey Nets.
Today's Hot Topic: The team's worst-case scenario
As it stands right now, the Nets' starting five looks like this: Deron Williams, Anthony Morrow, a small forward to be named later, Shelden Williams and Brook Lopez.
Go ahead, hit the panic button if you must. This really is as bad as it gets.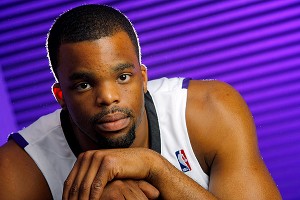 Rocky Widner/NBAE/Getty Images
Signing Shelden Williams doesn't exactly signify a reversal of fortune for the Nets.
The Nets came into this offseason with obvious needs at small forward and power forward. Two days before their first exhibition game, they still haven't fully addressed them.
Ugh.
The Nets still have $22 million in cap space, so they're going to sign someone. As I post this blog, small forward Shawne Williams reportedly has picked the Nets over the Knicks, and Andrei Kirilenko has been mentioned in reports.
But the Nets won't be getting Tyson Chandler or Nene. Both ended up elsewhere. They threw the kitchen sink at the Magic in order to land Dwight Howard, but couldn't meet Orlando's steep demands.
Nets fans are understandably upset. They're already beginning to fear the worst: Their mediocre roster causes Deron Williams to become upset, and the Nets are forced to trade him for a package of young players and draft picks so they don't lose him for nothing.
Fans paying outrageous prices to see a superstar-less team in Brooklyn next season? You can fuhgeddaboudit!
Here's an interesting fact: Nineteen teams won more games last season than the Nets have in the last two combined (36).
They may be two seasons removed from 0-18 and 12-70, but it feels like it just happened, doesn't it?
Travis Outlaw and his four-year, $28 million albatross are still on the books. And Nets fans may start an occupy Prudential Center movement if the team doesn't waive him via the amnesty clause.
The thought of Stephen Graham playing offense and Johan Petro jacking up 15- to 17-foot jumpers?
Yuck.
Chances are, Outlaw and Graham won't be on the roster when the season begins. But you never know.
After all, who would've thought that two days before their first preseason game, the Nets' prized offseason acquisitions would be Shelden and Shawne Williams?
Another offseason full of failure, wouldn't be a shock, though.
No championships. Lots of bark but no bite. Same Old Nyets. For now.