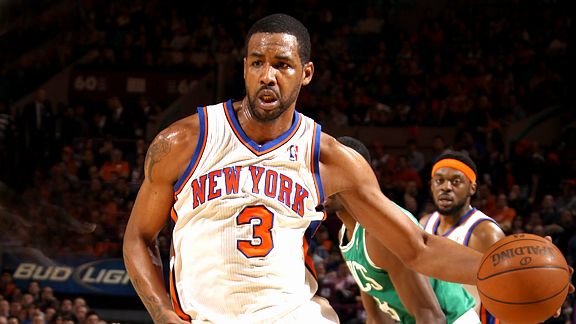 Nathaniel S. Butler/Getty Images
Shawne Williams, a small forward, will take his talents across the Hudson River.Nets coach Avery Johnson confirmed Thursday that sharpshooting Shawne Williams has chosen New Jersey over the Knicks.
The deal is reportedly for two years and $6 million.
Also on Thursday, the Nets waived forward Travis Outlaw via the amnesty clause. Outlaw -- who averaged 9.2 points and shot 38 percent from the field last season -- has four years and $28 million remaining on his contract.
Williams, 25, played in 64 games for the Knicks last season, averaging 7.1 points per game on 40.1 percent shooting from 3-point range.
A four-year pro, Williams holds career averages of 5.9 points and 2.9 rebounds per game.
Williams was actually traded to the Nets from Dallas, along with Kris Humphries, for Eduardo Najera on Jan. 11, 2009, but the team waived him four days later.