Continuing through Dec. 23, ESPNNewYork.com will run a series called "Christmas Countdown" examining a hot topic each day that involves the New Jersey Nets.
Today's Hot Topic: Bench boss
"It's a process."
"This is what I signed up for."
Nets coach Avery Johnson likes to recycle those quotes a lot.
That's what happens when you go from coaching a perennial playoff contender in Dallas to coaching a rebuilding team full of youth and inexperience in New Jersey.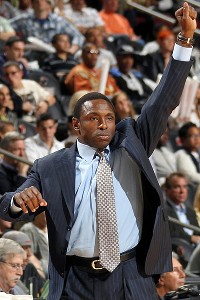 Nathaniel S. Butler/NBAE via Getty Images
Avery Johnson knows what it's like to be a player during a shortened season.
Avery arrived in the Garden State with the highest regular-season winning percentage (.735) of any coach in NBA history. But a 24-58 campaign in 2010-11 changed that, and Avery now sits in 17th place on the all-time list in that category.
The Nets made a lot of strides in Johnson's first season on the bench, winning twice as many games as they did in 2009-10. Still, they ranked 28th in scoring and were a middle-of-the-pack team defensively.
This season, Johnson sounds optimistic that his team can continue to improve on both ends of the floor. During practice this week, players were heard yelling on the court in an effort to improve communication on the defensive end. On offense, the Nets are going to run a lot of motion with point guard Deron Williams sometimes playing off the ball and coming off a myriad of different screens.
Given that training camp is only two weeks long, implementing his system is certainly a daunting challenge, but Johnson is up for it. He knows more growing pains loom on the horizon, but he's ready and willing to endure them.
Johnson has certainly earned the respect and admiration of his players. Williams called him a "player's coach," and center Brook Lopez agreed.
"He's hard on us, but he's been here before. He played in a lockout season so he knows what it's like," Lopez said. "He knows it's condensed, so he definitely knows how to run practices in this situation."
Johnson's task in 2011-12 will be maintaining a positive relationship with Williams while making sure players like Lopez (rebounding) and rookie swingman Marshon Brooks (defense) improve.
With a healthy Williams, Lopez, Anthony Morrow, Shawne Williams, Brooks and an upgrade at power forward, the Nets can be a playoff team in the Eastern Conference this season.
And if they're somehow about to land Dwight Howard from the Magic, they can become an instant contender.
For now, that's just a pipe dream, though. Getting the team to the playoffs? It may be a process, but it's certainly a realistic goal.