MarShon Brooks found out about 25 minutes before tipoff that he would be making his second career start. DeShawn Stevenson had fluid drained from his knee and was a late scratch, so Nets coach Avery Johnson inserted Brooks into a lineup that needed some life early in the games.
They didn't get that. Not in the first quarter, at least. But the rookie provided the spark the team needed in the third quarter and logged his first career double-double with 19 points and 10 rebounds in 40 minutes. He also drew the assignment of guarding the 6-7, 240-pound Joe Johnson (22 points, six rebounds).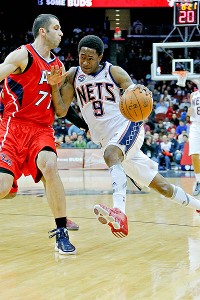 Jim O'Connor/US Presswire
MarShon Brooks is averaging 14.4 points per game, second best among NBA rookies.
"You've got to be ready whenever your number is called," Brooks said after a 106-101 loss to the Hawks. "I was ready. We got off to a slow start as a team and they jumped on us. That's been the reason that we lost to Atlanta the first two times."
New Jersey put up 11 first-quarter points when Atlanta routed the Nets by 36 in their first meeting. They posted 19 in the first period three days later, when they lost by seven. The Nets were outscored 31-18 in the first quarter Monday night and trailed 56-45 at halftime.
But Brooks found his stroke in the third quarter. He hit three treys in the period, including back-to-back shots from behind the arc that cut Atlanta's lead -- the Hawks had led by as many as 16 -- down to seven. Brooks shot 4-for-6 for 11 points in the quarter and helped the Nets hang around long enough to make a fourth-quarter push.
"I just started shooting with confidence, shooting the three with confidence," Brooks said. "I shoot the mid-range [jumper] with confidence, but sometimes I think twice before I shoot the three. I was just shooting it instead of thinking."
The Nets certainly needed Brooks' scoring, but Avery Johnson was just as impressed with the rookie's rebounding and his guarding of the bigger, stronger Joe Johnson.
"He goes after it," the coach said. "Sometimes he'll run in there [for rebounds] a little bit too much offensively and it hurts us in transition. But again, he has a knack for getting the ball. The kid is doing some nice things for us. For him to play 40 minutes and he's not really 100 percent tonight, against a superstar player in Joe Johnson, is pretty good."
You can follow Christopher Hunt on Twitter.