The Nets signed Shawne Williams because they needed shooters, specifically sharp shooters from beyond the 3-point arc.
They also needed bodies, since the roster's injury list seemed to grow by the day. But once Williams joined the team, the flu cost him a valuable week of practice and he had yet to seem comfortable in the offense -- until Monday night.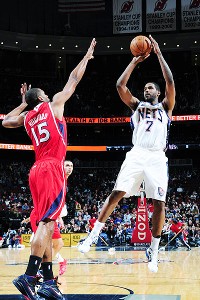 Scott Cunningham/NBAE/Getty Images
Shawne Williams scored a season-high 11 points Monday.
Williams hit three 3-pointers and finished with 11 points and five rebounds in a 106-101 loss to Atlanta, Williams' best game in a Nets jersey this season.
Williams had scored 11 total points in his last three games. Nets coach Avery Johnson said Williams had been hesitating and sometimes rushing shots, or allowing defenders to chase him off the 3-point line. Against Atlanta, Williams found open areas to where Deron Williams could kick to him for open shots.
"This is how I envisioned Shawne Williams, playing about 18 to 24 minutes, at some 3, some 4, but mainly spreading the floor for us," Johnson said. "He's getting in better shape and getting his legs under him a little bit. But it's taken us 10 games, hopefully in the next 10 we'll have a better record than 2-8."
Williams said that his production is a matter of him getting more comfortable with the offensive sets and his teammates and also learning where he should be on the floor.
"I feel like I can do a lot more," Williams said. "By me missing training camp, I have a little more shape to get in. [I need to get] a little more acclimated with the players. When I start going to my spots by nature and not by thinking so much or by Coach telling me to go to the corner, or just knowing the sets, it should be a little more comfortable for me."
You can follow Christopher Hunt on Twitter.